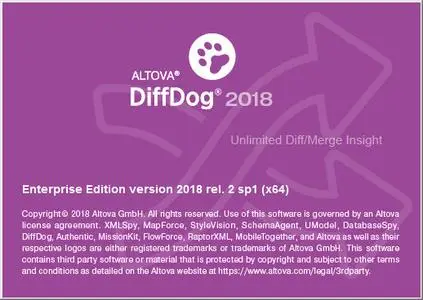 Altova DiffDog Enterprise 2018 v20.2.1 R2 SP1 (x64) | 59.2 Mb
Altova DiffDog is the unique XML-aware diff / merge tool that lets you compare and merge text or source code files, XML or JSON files, and Word documents. Compare and synchronize directories, database schemas and content, and much more.
File Comparison Tool
DiffDog includes powerful capabilities that let you compare and merge any type of text-based file, with support for Unicode, ASCII, MBCS, and any other file formats. DiffDog allows bi-directional merging as well as direct editing of both compared files. DiffDog automatically creates a backup of each file, allowing you to re-load the original file from the server or disk at any time should you need to start over. DiffDog also supports unlimited undo, so you can backtrack to any point in the editing and merging process.
DiffDog Highlights:
Diff/merge
File differencing
Folder differencing
Directory Sync functionality
Compare XML
3-way file compare
Database differencing
Compare Word docs
OOXML comparison
Compare XML files in Grid View
ZIP archive differencing
Generate diff reports
XSLT code for XML Schema differences
Save comparison settings for easy reuse
DiffDog Server for automating diff report generation
Operating System:
Windows 7 SP1 with Platform Update, Windows 8, Windows 10 (64-bit only)
Home Page
-
https://www.altova.com/