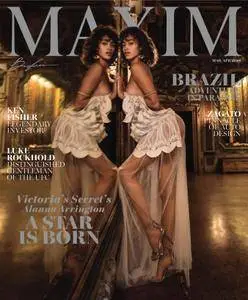 Maxim USA - March 2018
English | 100 pages | True PDF | 35.2 MB
Still feeling winter's chill? Let us warm you up with our March/April issue. Imagine yourself on the sunny beaches of Brazil; our insider's travel guide will tell you the best ones to go to, along with all of the other must-see and do things Brazil has to offer. From there, hop over to Venice, where this month's cover star, Alanna Arrington, was photographed—Victoria's Secret's newest star will surely distract you from winter's woes. In need of further diversion? We'd like to introduce you to the finalists of the Maxim Cover Girl contest: nine bold, beautiful women—chosen by you, dear reader—who competed fiercely for the opportunity to be a Maxim cover model. Finally, if you just want to get out of dodge, imagine yourself burning rubber in one of Zagato's incredible creations. The design firm has partnered with the likes of Ferrari and Maserati to create incredible vehicles for almost 100 years, so there are plenty of options to fantasize about your dream girl…er, car. Leave winter in the dust.