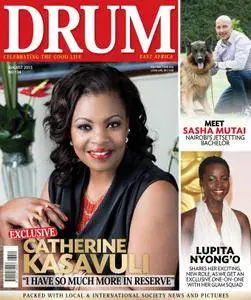 Drum East Africa - August 2015
English | 68 pages | True PDF | 15.0 MB
There is no better way to usher in a new month than with the latest issue of DRUM magazine. Our personalities, starting with our cover Catherine Kasavuli, will blow your socks off. With more than three decades in media, Kasavuli remains as beautiful as ever. However, is she ready to throw in the towel, and what's the beauty secret to looking so young? What are her most memorable career moments? Read our cover story from Page 12 to find out these and so much more.
In an exclusive interview with Lupita Nyong'o, get Award-winner's thoughts on chances of winning a second Oscar, and why she became the Global Elephant Ambassador for WildAid. Fashion stylist Micaela Erlanger and hairstylist Vernon Francois give us the scoop on how they get Lupita ready for the red carpet. Is she an easy person to work with? Does she keep the dresses and accessories she dons on the red carpet? What inspires the different looks and hairstyles? Turn to Page56 and find out.