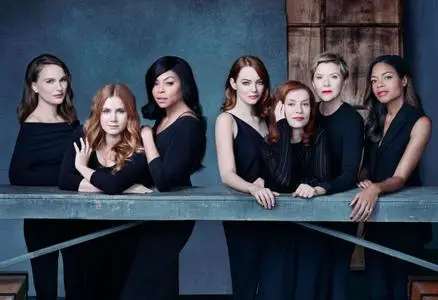 The Hollywood Reporter's Actress Roundtable 2016
21 jpg | up to 2048*1536 | 3.85 MB
A few years back during a THR Actress Roundtable,
Taraji P. Henson
revealed she had tried acting only after coming to realize that her electrical engineering studies weren't working out. "I failed pre-calc," she told the group in 2008. "Not calculus, pre-calc! The class that preps you for all the math you have to do." It's ironic that the actress (on that roundtable for
The Curious Case of Benjamin Button
) was invited back this year for her performance as a math wiz in Hidden Figures, where she's one of three black women — all based on real-life characters — who helped NASA launch a man-into-space program in the 1960s. Henson, 46, was joined for the Nov. 13 roundtable taping at a Hollywood production studio by
Amy Adams
, 42, with two films in the awards conversation,
Arrival
and
Nocturnal Animals
;
Annette Bening
, 58, who stars in
20th Century Women
; and British actress
Naomie Harris
, 40, who plays a crack-addicted mother in
Moonlight
.
Rounding out the group were French legend
Isabelle Huppert
, 63, who depicts an unusual and provocative rape victim in the Cannes breakout
Elle
;
Natalie Portman
, 35 (an Oscar winner for
Black Swan
), who nails the voice and emotion of Jacqueline Kennedy in the days following her husband's assassination in
Jackie
; and
Emma Stone
, 28, who sings, dances and romances
Ryan Gosling
in
La La Land
.