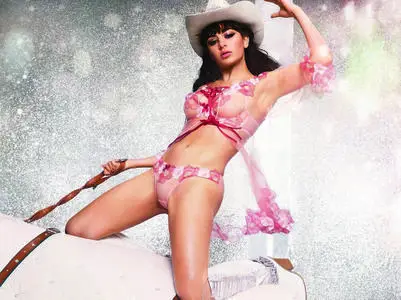 Charli XCX - Agent Provocateur Holiday 2019
15 jpg | up to 1870*1400 | 12.65 MB
Charlotte Emma Aitchison
(born 2 August 1992), better known by her stage name
Charli XCX
, is an English singer and songwriter.
Charli XCX released her debut single independently in 2008 and initially performed at warehouse raves in London. She signed to Asylum Records in 2010 and released two mixtapes, Heartbreaks and Earthquakes and Super Ultra, in 2012. Charli XCX's major label debut album,
True Romance
, was released in 2013, accompanied by singles including
"You (Ha Ha Ha)"
and
"Nuclear Seasons"
.
She rose to international fame during 2013 and 2014 when she was featured on two major hit singles, Icona Pop's
"I Love It"
and Iggy Azalea's
"Fancy"
. Her 2014 single
"Boom Clap"
from the soundtrack album of
The Fault in Our Stars
became a top ten hit in a number of countries. It also preceded the release of her second album,
Sucker
, which featured the singles
"Break the Rules", "Doing It"
and
"Famous"
. A bonus track, titled
"Red Balloon"
was also featured on the soundtrack to Home.