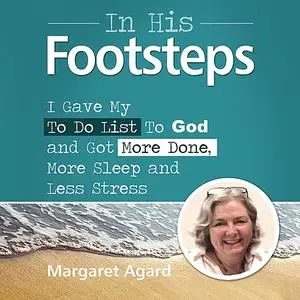 «In His Footsteps : I Gave My To Do List To God and Got More Done, More Sleep and Less Stress» by Margaret Agard
English | MP3@192 kbps | 3h 24m | 281.1 MB
"An inspiring, easy read with laugh out loud moments"Bringing her trademark candor, wry wit, and warmth, award-winning author Margaret Agard gives us a smart, funny and timeless memoir appealing to both skeptics and believers, alike.Already overwhelmed with her five-page long to-do list thanks to a new marriage, two sons facing the tumultuous teen years, and work, she's called on to organize care for the women of her church from the young mothers to grieving widows. In desperation, she turns her list over to God each day asking, "What do I do today?" Her life is quickly filled with experiences both touching and quirky from hospital visits to screaming peacocks culminating in her heart-felt changed relationship with God.Filled with captivating characters, down to earth spirituality, and sparkling stories of life with Parker and the boys. Agard brings both profound insight and self-deprecating humor to the simplest of life's moments.Each finely crafted piece illuminates the small and great events of a woman's life with strength and compassion while the whole creates a memorable experience, that lingers long after the memoir is finished.