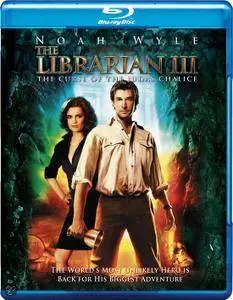 The Librarian: The Curse of the Judas Chalice (2008)
BRRip 720 | MKV | 1280 x 720 | x264 @ 2048 Kbps | 1h 30mn | 1,69 Gb
Audio: English AC3 5.1 @ 640 Kbps | Subtitles: English (embedded)
Genre: Action, Adventure, Comedy | Director: Jonathan Frakes
After retrieving the philosopher's stone at an auction but losing his girlfriend, The Librarian Flynn Carsen has a breakdown. Charlene and Judson ask him to spend some time on vacation. Flynn travels to New Orleans and he has a crush on a French singer (Simone Renoir). However he discloses that she is the guardian of a key to access the Judas Chalice that is capable to resurrect vampires. Meanwhile the former Russian Minister of Defense Sergei Kubichek is seeking the chalice to revive Vlad the vampire with the support of Professor Lazlo. Also to raise an army of undead to bring Russia back to the top of the world. When Simone reveals that she is a vampire, Flynn question whether she is not using him to reach the chalice and increase her power.
The directing/writing team of Jonathan Frakes and Marco Schnabel are back for another movie in the series.

They open with a James Bond tribute. Our little nerd (Noah Wylie) has certainly come a long way. He is no longer a nerd, and has developed an amazing capability with a sword as displayed in a fight with an ex-KGB agent (Dikran Tulaine), who wants to restore Russia to its former glory.

His plan is to restore none other than Dracula, who will lead an army of vampires. With the success of "True Blood" and Twilight, a vampire story is expected, and it really made things exciting. Our villain has the body of Vlad the Impaler, and now all he needs in the chalice made out of the 30 pieces of silver given to Judas (The first I have heard of that!) But, Flynn Carsen (Wylie) is burned out. It is up to Jane Curtin, in a much meatier role, to get him started. But it is a dream sequence with Croation Stana Katic (Quantum of Solace) that gets him moving. What? No English heroine? Not appropriate in a movie involving vampires, you see.

With vampires, the movie is a bit more exciting and the special effects are ramped up. It is set in new Orleans and that is always a plus for the atmosphere and the music.

Oscar nominee Bruce Davison (Longtime Companion, Short Cuts) gives an impressive performance.

We get the expected ending, and are left wondering if this franchise has burned itself out, or if we will see our hero again two years from now.
(Enlargeable)

The Librarian: Quest for the Spear (2004)
The Librarian: Return to King Solomon's Mines (2006)