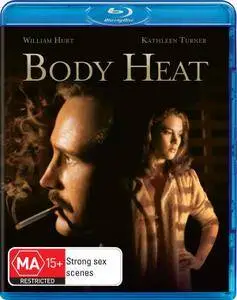 Body Heat (1981)
BDRip 720p | MKV | 1280 x 720 | x264 @ 2560 Kbps | 1h 53mn | 2,38 Gb
Audio: English AC3 5.1 @ 448 Kbps | Subtitles: English (embedded)
Genre: Crime, Romance, Thriller | Director: Lawrence Kasdan
Shyster lawyer Ned Racine (William Hurt) begins a passionate affair with Matty Walker (Kathleen Turner), wife of a wealthy Florida businessman (Richard Crenna). With the help of one of his criminal clients, bomb maker Teddy Lewis (Mickey Rourke), Ned hatches a scheme to kill Matty's husband so that they can run away together with his money. But complications build upon double-crosses, launching the hapless lawyer into a situation far more treacherous than he imagined.
Since it's not a very famous film I was surprised how good it was. The camera-work was great. Check out an early scene in the film when the camera starts behind the bar and slides around to follow William Hurt outside where he lights up and strikes a perfect pose leaning against the doorway like Bogart or someone from one of those forties films. Wonder how many takes that took. Hurt puts in a great performance. The fact that his character is called Ned Racine gives him a head start but it's a very challenging role to portray a guy who is at the same time dynamic, lazy, naive, charming and likable. All the performances are top drawer. Kathleen Turner does a great job as the femme fatale. Mickey Rourke is in just two scenes but grabs your attention in both. Ted Danson and JA Preston are good as Ned's friends. Richard Crenna plays the kind of assertive character he played in Rambo,which fits in here as he delivers a pivotal line which sums up the story.('You've got to know the bottom line')
(Enlargeable)