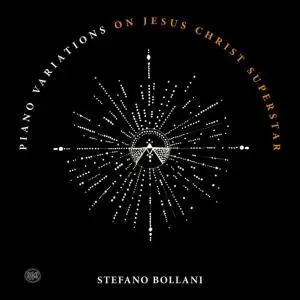 Stefano Bollani - Piano Variations on Jesus Christ Superstar (2020)
WEB FLAC (tracks) - 208 Mb | MP3 CBR 320 kbps - 146 Mb | 01:03:34
Jazz | Label: Alobar
Stefano Bollani's solo album 'Piano Variations on Jesus Christ Superstar' will be released on 3rd April 2020, 50 years after Andrew Lloyd Webber and Tim Rice's original concept album. Bollani wanted his version of "JCS" to be completely different from whatever Broadway or London production: "I'll choose the piano solo formula, because it's a love affair between myself and this music." He only sings one song, "Superstar"; the rest of the album is instrumental. Bollani, grateful for the exceptional permission granted to him to re-interpret the cult opera, has freely but respectfully approached the original songs by following his own playful wit, informed by the musical traditions, genres, styles and encounters that have shaped what is considered his very own idiom. For his version of Jesus Christ Superstar Bollani wanted a warm, mellow, profound, dense and clear piano sound. Hence the piano tuned at 432 Hz, which has allowed him to express the warmth and profundity of Lloyd Webber & Rice's strong round film characters.
Tracklist:1.
Prelude
(01:41)
2.
Heaven on Their Minds
(04:58)
3.
What's the Buzz?
(02:41)
4.
Strange Thing, Mystifying
(01:32)
5.
Everything's Alright
(05:54)
6.
This Jesus Must Die
(03:33)
7.
Hosanna
(03:00)
8.
Simon Zealotes
(03:53)
9.
Pilate's Dream
(02:56)
10.
The Temple
(04:09)
11.
I Don't Know How to Love Him
(03:19)
12.
Damned for All Time
(01:43)
13.
The Last Supper
(04:01)
14.
Gethsemane (I Only Want to Say)
(07:26)
15.
King Herod's Song
(03:46)
16.
Trial Before Pilate
(02:53)
17.
Superstar (with Frida Bollani, Manuela Bollani & Valentina Cenni)
(04:06)
18.
John Nineteen: Forty-One
(01:55)
–––––––––––-

DON'T MODIFY THIS FILE

–––––––––––-

PERFORMER: auCDtect Task Manager, ver. 1.6.0 RC1 build 1.6.0.1
Copyright © 2008-2010 y-soft. All rights reserved

ANALYZER: auCDtect: CD records authenticity detector, version 0.8.2
Copyright © 2004 Oleg Berngardt. All rights reserved.
Copyright © 2004 Alexander Djourik. All rights reserved.


FILE: 18 John Nineteen Forty-One.flac
Size: 5017549 Hash: 3326CBCC6F9F9EA7B29D7424A433B693 Accuracy: -m0
Conclusion: CDDA 100%
Signature: E3BC8210D3FBABFA1A32DED3F8B4EE7A5F43D2D0
FILE: 17 Superstar.flac
Size: 18011473 Hash: F2D3BE811CFCFB214DCF12C20D37EF3C Accuracy: -m0
Conclusion: CDDA 99%
Signature: D5370B7DB3B01023E6DB2671EF0FDA755B113E14
FILE: 16 Trial Before Pilate.flac
Size: 10339772 Hash: 7F17BF68965576545AE4A99195CC0E0E Accuracy: -m0
Conclusion: CDDA 100%
Signature: 6A6B2EAAFA0BC171A5A8067818BDEA2D5ECECB59
FILE: 15 King Herod's Song.flac
Size: 14333358 Hash: DDF269255FBE25FB9B8862C0FE6EC07F Accuracy: -m0
Conclusion: CDDA 100%
Signature: 9749DC4412371EEFA5A1850AD7EC1DD773D8A737
FILE: 14 Gethsemane (I Only Want to Say).flac
Size: 22805770 Hash: E8755A14EB211638E51BC2B89B662C2C Accuracy: -m0
Conclusion: CDDA 100%
Signature: 5F45DCD9EEFA48121EBDE4EF0A2F9CFA80D8047B
FILE: 13 The Last Supper.flac
Size: 12758751 Hash: 137DF7C3A99C698B48112F263210B63A Accuracy: -m0
Conclusion: CDDA 100%
Signature: BDFE244B7A7DBDF3E048805ED06B5FC3D26609C3
FILE: 12 Damned for All Time.flac
Size: 6726265 Hash: 0E1D23D063C29B9617F3CF98AA5BC818 Accuracy: -m0
Conclusion: CDDA 100%
Signature: EA5A607C349CB78161970EF451EAE48AF6F364FB
FILE: 11 I Don't Know How to Love Him.flac
Size: 10504260 Hash: 2DC6AA1BDD62B7A77AAA020C928DDC0F Accuracy: -m0
Conclusion: CDDA 100%
Signature: 21E8C65F3E95A6782A5A5C31F576375E0C629E04
FILE: 10 The Temple.flac
Size: 14755700 Hash: 3F4AE7A4D577F8862F99E5E2ACBDF766 Accuracy: -m0
Conclusion: CDDA 100%
Signature: 606EA507A03088B41569A0A35B7667B0D5A5275A
FILE: 09 Pilate's Dream.flac
Size: 9062549 Hash: BF1EC953D19286E5685E26BFF95E2DCB Accuracy: -m0
Conclusion: CDDA 100%
Signature: 709F0F801C41D53D7FA60B5D0E6F94266EF53D97
FILE: 08 Simon Zealotes.flac
Size: 13828798 Hash: 8B3CE5EDE2B29399EDA12F0DEA0484BD Accuracy: -m0
Conclusion: CDDA 100%
Signature: 26D5151D516E852EE28A2D298B4DF0BA7B01BA34
FILE: 07 Hosanna.flac
Size: 9622492 Hash: DC6094CBEAE6CBABCEA7BB1B37D0CE7E Accuracy: -m0
Conclusion: CDDA 100%
Signature: B2E5D32B160B2580715710F0803266D923716006
FILE: 06 This Jesus Must Die.flac
Size: 13039319 Hash: 63A118695D20E0B572BD36E9026A2C5D Accuracy: -m0
Conclusion: CDDA 100%
Signature: 539349F4D3328D6BA01F3CED765BC1AB9A6F02C2
FILE: 05 Everything's Alright.flac
Size: 20090314 Hash: 275733749D876F2CED019CACE13DFF49 Accuracy: -m0
Conclusion: CDDA 100%
Signature: A9312827C0E79CA0CBF24924C5DEEDBE49280DFF
FILE: 04 Strange Thing Mystifying.flac
Size: 5007319 Hash: 7232FE176422945D54FBA35E01AC14FC Accuracy: -m0
Conclusion: CDDA 100%
Signature: 5FE07BA71B4650C59FF3B84C59C306C13C3A659F
FILE: 03 What's the Buzz.flac
Size: 10043930 Hash: B835A59FD165E8C9DBA7E9F39B98C7E0 Accuracy: -m0
Conclusion: CDDA 100%
Signature: 88F4F9CA2EE8F2362005905CCD8D329FB6883C7C
FILE: 02 Heaven on Their Minds.flac
Size: 16904107 Hash: F3765B6BEF1139B8D309F341A079E8F8 Accuracy: -m0
Conclusion: CDDA 100%
Signature: D32BF3FF3A821374E8282B52DDC93D0B019DB7C0
FILE: 01 Prelude.flac
Size: 5165292 Hash: 0DE7E02693F255524E8EA978ADD5F69A Accuracy: -m0
Conclusion: CDDA 100%
Signature: DA926C56D9BF5DEE386E5EF2A7D64BF536A7ECBC