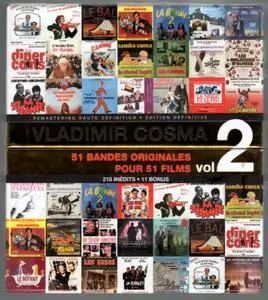 Vladimir Cosma Volume 2: 51 Bandes Originales pour 51 Films (17CD Box Set, 2010)
EAC Rip | FLAC (*tracks+.cue+.log,scans) | Run Time: 21:33:28 | 8,35 Gb
Genre: Score, Soundtrack | Label: Larghetto Music
Vladimir Cosma became a highly regarded and hugely prolific soundtrack composer for the French cinema in the 60s and 70s. Cosma is a stellar example of the rich traditon of French movie composers, from Auric to Delerue to Desplat. Like them, he seems to effortlessly breathe melodies. His music can be lush, it can be spritely. It shimmeres, cascades, and yes, sometimes, it kicks butt. This second box set of his scores, like the first, is a treasure chest for fans of rich, melodic film music.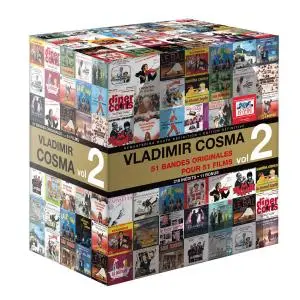 Contents:
CD 1: LAs des As
CD 2: LEtudiante
CD 3: Le Diner De Cons
CD 4: Chateauvallon
CD 5: Le Bal
CD 6: Salut LArtiste
CD 7: La Boum 2
CD 8: Dracula Pere et Fils
CD 9: Asterix Et La Surprise De Cesar
CD 10: Les Mysteres De Paris
CD 11: LAile ou la Cuisse
CD 12: Maldonne
CD 13: Le Distrait
CD 14: La Neige Et Le Feu
CD 15: Inspecteur La Bavure
CD 16: Pleure Pas La Bouche Pleine
CD 17: Le Retour Du Grand Blond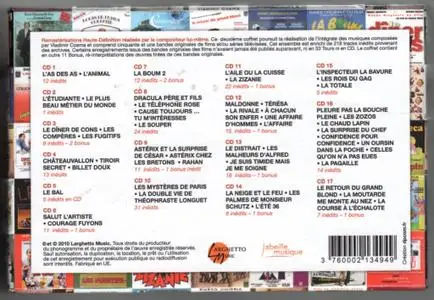 CD 1: LAs des As

1. L'As des As (03:20)
2. Oy ! Oy ! Oy ! (03:37)
3. A Berlin, toi et moi (02:51)
4. La Flamme olympique (02:05)
5. Jo, Simon et le petit ourson (00:50)
6. La Nique à Hitler !!! (02:33)
7. Berlin Melody 1936 (02:38)
8. L'Echappée belle (02:07)
9. Gaby, my darling (02:46)
10. Ouverture de l'As des As (03:56)
11. Jo et Gaby (00:36)
12. Les S.S. et la famille juive (01:31)
13. Dans le repère du loup (01:39)
14. V comme Victoire (03:18)
15. Ich liebe dich (02:47)
16. L'As des As (finale) (03:23)
Tracks 01-16: Bande originale du film L'AS DES AS de Gérard Oury (1982)
17. Danse de l'Animal (02:37)
18. Saut du Kangourou (02:09)
19. Mon Hawaï (03:07)
20. Tendre gorille (02:00)
21. Le Double Paso (01:03)
22. Chinatown (00:43)
23. Menuet du comte (02:46)
24. Gigue du châtelain (01:50)
25. Pavane (02:16)
26. Gaillarde (01:34)
27. Passepied binaire (02:25)
28. Danse de l'Animal (version disco) (05:06)
29. Retour du kangourou (01:25)
30. Copacabana (02:21)
31. Mariano for ever (00:45)
(V. Cosma / J. Jordan)
32. Tropicana (01:55)
33. Cascade finale (03:37)
Tracks 17-33: Bande originale du film L'ANIMAL de Claude Zidi (1977)

CD 2: LEtudiante

1. You Call It Love (04:57)
(J. Jordan / V. Cosma) interprété par Karoline Kruger
2. Ned Compose (02:41)
3. Rain Forest (05:20)
4. Coup de cœur (01:41)
5. Vol de nuit (04:13)
6. Valentine (02:17)
7. Sentimen Mwen (04:11)
(J. Jordan / V. Cosma)
8. Iron Gate (04:36)
9. Premier Baiser (01:50)
10. Au Studio Davout (00:38)
11. Thème d'Edouard (02:12)
12. L'Etudiante (03:32)
Tracks 01-12: Bande originale du film L'ETUDIANTE de Claude Pinoteau (1988)
13. Le Plus beau métier du monde (03:41)
14. Ethnic jungle you you (02:39)
15. Les Pitbulls d'Albert (01:07)
16. Octopus (Jungle Mix) (03:06)
17. Thème de Malou (01:17)
18. Ya Habibi Ya Aini (04:38)
interprétée par Ahlem Ben Rabah
19. Hard beat (Ruff Mix) (03:16)
20. Happy Birthday to you (01:47)
(Argt. V. Cosma)
21. Laurent sauve Malou (02:44)
22. Naadin (Deep Mix) (03:14)
23. Andantino grazioso (01:23)
(Mozart – Argt. V. Cosma)
24. Le Désespoir de Laurent (02:52)
25. Radia's boogie rock final (03:09)
26. Le Plus beau métier du monde (Version rythmique) (03:55)
Tracks 13-26: Bande originale du film
LE PLUS BEAU MÉTIER DU MONDE de Gérad Lauzier (1996)

CD 3: Le Diner De Cons

1. Dîner de Cons (version orchestrale) (02:44)
2. Le Temps ne fait rien à l'affaire (02:09)
(Georges Brassens)
3. Départ de Christine (01:07)
4. Cheval, contrôleur fiscal (02:15)
5. Con à grande vitesse (02:16)
6. Manciniade (03:20)
7. Dîner de Cons (06:06)
Tracks 01-07: Bande originale du film LE DÎNER DE CONS de Francis Veber (1998)
8. Les Compères (03:35)
9. La Recherche versione (02:13)
10. L'Arrivée à Nice (01:24)
11. Les Rockers (03:53)
12. Thème de Tristan (02:13)
13. Sur les toits de Nice (00:54)
14. Mitraillage de Jeannot (00:45)
15. Pignon et Lucas (02:39)
16. Blue onions (03:47)
17. Il était une fois la zone (01:06)
18. Coup de barre (01:10)
19. Coup dur (02:45)
20. Mon fils (02:15)
Tracks 08-20: Bande originale du film LES COMPÈRES de Francis Veber (1983)
21. Les Fugitifs (05:20)
22. Légèrement (02:36)
23. Ma petite fille (02:50)
24. Jeanne et Lucas (01:55)
25. La Petite Fille et le Clochard (02:33)
26. La Blessure (02:04)
27. T'en vas pas (01:34)
28. Les Fugitifs – final (04:42)
29. Le Dîner de cons – Bonus (03:32)
30. You love me again (version courte) (02:22)
(J. Jordan / V. Cosma) interprété par Richard Sanderson
Tracks 21-30: Bande originale du film LES FUGITIFS de Francis Veber (1986)

CD 4: Chateauvallon

1. Puissance et Gloire (03:20)
(V. Cosma / V. Buggy) interprété par Herbert Léonard
2. Les Kovalic (02:29)
3. Le Commissaire Nicolo (02:29)
4. La Mort d'Antonin (03:12)
5. La Dépêche (01:48)
6. Suspense aux Sablons (01:36)
7. Les Rues de Châteauvallon (02:29)
8. Thème des Berg (03:21)
9. Enquête des journalistes (02:04)
10. Châteauvallon versione (03:30)
11. Paul et Catherine (02:58)
12. Magouille (03:31)
13. Thème de Florence (02:53)
14. Bernard et Albertas (02:14)
15. Le Chantage (02:59)
16. Action musclée (01:51)
17. Rêverie d'Antonin (02:25)
18. Investigations (01:14)
19. La Commanderie (02:44)
Tracks 01-19: Bande Originale de la série télévisée CHÂTEAUVALLON
de Paul Planchon, Serge Friedman & Emmanuel Fonlladosa (1985)
20. Un Souvenir heureux (02:55)
(V. Cosma / D. Thompson) chanson interprétée par Diane Dufresne
21. Retrouvailles secrètes (00:54)
22. Top secret (02:51)
23. Colette sur la piste (00:40)
24. Le Secret des photos (00:59)
25. Réminiscences d'André (01:26)
26. Le Tiroir secret (02:40)
Tracks 20-26: B.O. de la série TV LE TIROIR SECRET de Kevin Connor (1984)
27. A la recherche du billet doux (02:57)
28. Pépette (02:29)
29. Elégie opus 94 (02:39)
30. Philippe et Florence (02:20)
Tracks 27-30: B.O. de la série télévisée BILLET DOUX de Michel Berny (1984)

CD 5: Le Bal

1. Le Bal (03:08)
Trompette solo : Pierre Dutour
2. La Paloma (02:20)
(Yradier / Argt. V. Cosma)
Époque 1936
3. Pot-pourri de valses musettes (03:44)
Le Dénicheur (Daniderff) - Le Bal - Encore un petit verre de vin (D.P. / Arr. V. Cosma) - Le Dénicheur (Daniderff)
4. Pot-pourri de javas (04:43)
La plus bath des javas (Tremolo) - Le Bal - La Belotte (Yvain) - Java de concert (Chopin / Argt. V. Cosma)
5. Pot-pourri de valses (04:50)
La valse brune (G. Krier) - Au plaisir des bois (D.P. / Argt. V. Cosma) - Le Bal
6. Danse du tapis (04:10)
(C. Trenet - M. Emer / Paul Misraki / D.P. / Argt. V. Cosma)
7. Pot-pourri de polkas (04:59)
Les Triolets (E. Vacher / Ch. Peguri) - Perles de cristal (Hamel / Argt. V. Cosma)
Époque 1940
8. Parlami d'amore Mariu (03:13)
(Neri / Bixio) interprété par Vittorio De Sica
9. Pot-pourri 1940 * (04:28)
J'attendrai (Oliviéri) - Sérénade sans espoir (Weersma) - Lili Marleen (Schulzer) Pierre Gossez, clarinette et sax solo - Marcel Azzola, accordéon solo
Époque 1944
10. Danse du tapis à la libération (04:01)
Fleur de Paris (H. Bourtayre / M. Vandair) - Tha-Ma-Ra-Boum-Di-Hé (D.P. / Argt. V. Cosma) - Ah ! Les fraises et les framboises (D.P. / Argt. V. Cosma) - Paso Doble
11. La plus bath des javas (Le Retour de l'Unijambiste) (Tremolo) (01:58)
Époque 1945
12. In the mood * (03:18)
(Garland)
13. Medley du couple dansant (03:55)
Top Hat & Let's face the music and dance (I. Berlin) - Harlem Nocturne (Hagen)
14. Le bal (Interlude piano) (01:03)
15. La vie en rose (02:48)
(E. Piaf / Louiguy)
16. Amour, castagnettes et tango (02:54)
Époque 1955
17. Si tu vas à Rio (02:26)
(Carvalinho / Monteiro / J. Broussolle) interprété par Dario Moreno
18. Pot-Pourri Samba Bayon (05:21)
Brazil (A. Barosso) - Le Bal - El Negro Zumbon (Vatro-Giordano)
19. Tutti-Frutti * (02:21)
(Penniman / De La Bostrie) interprété par Little Richard
20. Le bal (Interlude Piano) (00:32)
Époque 1968
21. Michelle (01:46)
(J. Lennon – P. Mc Cartney) interprété par les Comédiens du Théâtre du Campagnol
Époque 1983
22. T'es OK (03:12)
(D. Vangarde / J. Kugler) interprété par Ottawan
23. Finale (07:07)
Le Bal – Que reste-t'il de nos amours ? (Trénet/Chauliac) – Le Bal
* Interprétation différente du film
Disc 5: B.O. du film LE BAL d'Ettore Scola (BALLANDO BALLANDO - 1983), d'après le Spectacle du Théâtre du Campagnol

CD 6: Salut LArtiste

1. Yves et Danièle (03:02)
2. Valse sifflotante (02:06)
3. Les Amours de Nicolas (04:00)
4. Les Boys (02:04)
5. Les Fillettes (03:31)
6. Nicolas, Peggy et Elisabeth (01:18)
7. Tropique (02:40)
8. Hip Hop (02:47)
9. Sur la plage de Cabourg (01:57)
10. Au Drugstore (02:55)
11. Les cadeaux du Père Noël (01:51)
12. Retour chez soi (01:33)
13. Derrière la vitre (01:45)
14. La Séparation (01:51)
Tracks 01-14: Bande originale du film SALUT L'ARTISTE d' Yves Robert (1973)
15. Courage fuyons (03:39)
16. L'Appel du large (03:19)
17. A deux mains (04:55)
18. Paris Amsterdam (02:03)
19. Courage fuyons (03:05)
20. Le Be Bop de Martin (00:31)
21. The Lady arrives (00:32)
22. Lady from Amsterdam (02:50)
(V. Cosma / J.L. Dabadie – B. Bergman) interprétée par Catherine Deneuve
23. Thirty saxes (02:58)
24. La Chanson de Martin (02:26)
(V. Cosma / J.L. Dabadie) interprétée par Jean Rochefort
25. Séduction d'Eva (00:42)
26. Black Star (02:39)
27. Courage fuyons (02:15)
28. Au cabaret (01:21)
29. A deux mains (version alternative) (03:33)
30. Lady from Amsterdam (version anglaise) (02:52)
(V. Cosma / J.L. Dabadie – B. Bergman)
Tracks 15-30: Bande originale du film COURAGE FUYONS d'Yves Robert (1976)
31. Yves et Danièle (03:29)
Trompette solo : Chet Baker
Thème du film SALUT L'ARTISTE d' Yves Robert (1973)

CD 7: La Boum 2

1. Your Eyes (04:42)
interprété par Cook Da Books
2. I can't swim (02:25)
3. Get it toghether (03:35)
4. Disillusion (Instrumental) (04:10)
5. Maybe you're wrong (03:28)
6. Silverman (03:41)
7. Reaching out (03:57)
8. Rockin'at the hop (03:22)
9. Silverman (Instrumental) (02:54)
10. Your Eyes (04:43)
interprété par Richard Sanderson
11. Dernier jour de vacances (Générique) (01:31)
12. Concert à Salzbourg (02:45)
13. Vic danse sous la pluie (02:24)
14. All night long (02:42)
15. Vic et Philippe seuls au monde (01:47)
16. Disillusion (03:56)
17. Valse des Berreton (02:22)
18. Félix séduit Vic (01:43)
19. Le Temps passe (01:12)
20. Escapade tunisienne (01:15)
21. Tarentelle des Berreton (02:53)
22. Mariage de Poupette (01:45)
23. La Boum 2 (Instrumental) (03:13)
24. Your Eyes (04:20)
interprété par Willhelmenia Fernandez
avec l'Orchestre National de Lyon dirigé par Vladimir Cosma
Disc 7: Bande originale du film LA BOUM 2 de Claude Pinoteau (1982)

CD 8: Dracula Pere et Fils

1. Dracula Fils (02:23)
2. Dracula Père (02:10)
3. La Diligence (01:42)
4. Herminie et le Comte Dracula (01:11)
5. L'Aube arrive… (02:26)
6. Le Flacon de sang (02:23)
7. Herminie mord le Comte (02:06)
8. Dracula danse (01:09)
9. Hai la vale ! (01:44)
10. Devant la grille du château (01:36)
11. Ferdinand à l'abattoir (00:50)
12. Dracula et Ferdinand adolescent (01:40)
13. Amour douloureux (01:35)
14. Dracula sort du cercueil (01:52)
15. Rencontre père et fils (01:05)
16. Nicole et Ferdinand (01:23)
17. Les Cendres (02:30)
Tracks 01-17: B.O. du film DRACULA PÈRE ET FILS d'Edouard Molinaro (1976)
18. Liste rose (02:25)
19. La Révélation (01:10)
20. L'Amour à tout prix (02:32)
21. L'Appât amoureux (01:15)
22. Rendez-vous galant (03:04)
23. Dans le piège (01:43)
24. Dîner au Georges V (02:32)
25. Castejac in love (01:45)
Tracks 18-25: B.O. du film LA TÉLÉPHONE ROSE d'Edouard Molinaro (1975)
26. Allo, je t'aime (03:03)
27. Liaisons trompeuses (01:45)
Tracks 26-27: Bande originale du film
CAUSE TOUJOURS…TU M'INTÉRESSES! d'Edouard Molinaro (1979)
28. Désenchantement (01:12)
29. Le Souper (00:58)
30. Mort d'un jeune homme (01:08)
31. La Valse du Congrès (03:32)
(J. Wilde / V. Cosma)
32. Le Quadrille de Wellington (02:00)
33. Le Congrès s'amuse – Générique (02:53)
(J. Wilde / V. Cosma)
(d'après Quatuor N° 1 en mi bémol majeur de Cherubini)
34. Scherzo (06:15)
35. Finale (04:23)
Tracks 28-35: Bande originale du film LE SOUPER d'Edouard Molinaro (1992)

CD 9: Asterix Et La Surprise De Cesar

1. Astérix est là ! (03:26)
(V. Cosma / P. Bertrand) chanson interprétée par Plastic Bertrand
2. Retrouvailles (01:41)
3. Idéfix et la Grenouille (01:16)
4. La Course de chars (02:07)
5. L'Esclave du désert (03:18)
6. L'Evasion de Tragicomix (01:19)
7. Expédition Gauloise (02:09)
8. La Méloppée de Falbala voix soliste : Daniel Licari (02:08)
9. La Potion magique (03:33)
10. Obélix amoureux (01:28)
11. Embarquement pour l'Afrique (01:15)
12. En route pour Massilia (01:40)
13. Rencontre en forêt (01:17)
Tracks 01-13: B.O. du film d'animation ASTÉRIX ET LA SURPRISE DE CÉSAR
de Paul et Gaëtan Brizzi d'après les albums de René Goscinny et Albert Uderzo (1985)
14. The look out is out ! (02:38)
chanson interprétée par Cook Da'Books
15. Berceuse Bretonne (03:00)
16. A l'abordage (01:21)
17. J'irai revoir mon Armorique (01:13)
18. César Superstar (01:22)
19. Le Débarquement (01:02)
20. Londinium's Cave (02:48)
21. Astérix chez les Bretons (02:37)
22. Idéfix Superchien (01:05)
23. La Grenouille et le Tonneau (01:01)
24. Nice Cup of Tea (01:24)
25. La Mouette et ses plumes (01:03)
26. Les Romains à Pearl Harbour (01:25)
27. Astérix est là ! (version allemande) (03:22)
(V. Cosma / P. Bertrand) chanson interprétée par Plastic Bertrand
Tracks 14-27: Bande originale du film d'animation ASTÉRIX CHEZ LES BRETONS de Pino Van Lamsweerde
d'après l'album de Goscinny et Uderzo (1986)
28. Rahan, Fils des âges farouches (02:05)
29. Le Clan des hommes doux (02:44)
30. Les Entrailles de Gorok (01:33)
31. La Flèche Blanche (01:11)
32. La Pierre aux étoiles (02:27)
33. Clan du lac maudit (02:12)
34. Sauver Alona (01:32)
35. La Falaise d'argile (01:13)
36. Les Liens de vérité (02:34)
37. Chanson Rahan (03:13)
(N. Wolmark / V. Cosma) chanson interprétée par Michel Endersen
Tracks 28-37: Bande originale de la série télévisée d'animation RAHAN d'Alain Sion d'après la bande dessinée Rahan,
le fils des âges farouches (1987)

CD 10: Les Mysteres De Paris

1. Complainte des Mystères de Paris (02:37)
2. Mazurka (01:49)
3. Romance (02:23)
4. Au Château de Gerolstein (02:49)
5. Mort de Fleur-de-Marie (03:34)
6. Menuet militaire (01:45)
7. Pathétique (04:18)
8. Le Chourineur repenti (01:06)
9. Valse de Barbarie (02:01)
10. Mimi Pinson (01:46)
11. Thème de Rodolphe (02:22)
12. La Religieuse (01:40)
13. Fleur-de-Marie (version alternative) (02:53)
14. Le Maître d'école (01:30)
15. Farandole (01:55)
16. Les Mystères de Paris (orgue de rue solo) (01:24)
17. La Chouette et le Maître d'école (01:38)
18. Valse de Gerolstein (02:29)
19. Sinistre Ferrand (00:46)
20. Au Lapin Blanc (02:15)
21. Le Peintre Cabrion (01:19)
22. Florestan de Saint–Rémy (01:42)
23. La Menace de Tortillard (01:45)
24. Les Souvenirs de Fleur-de-Marie (01:42)
Tracks 01-24: Bande originale de la série télévisée
LES MYSTÈRES DE PARIS d'André Michel (1980)
25. Complainte de Théophraste (03:50)
26. Réincarnation (01:14)
27. Condamné à mort (01:20)
28. Arrivée du train fantôme (01:49)
29. Du fond des siècles (04:59)
30. La Colère du chat violet (03:23)
31. Les Catacombes de la mort (02:19)
32. L'Âme noire de Cartouche (02:25)
33. Une Force mystérieuse (02:03)
34. Théophraste le Malheureux (03:01)
Tracks 25-34: Bande originale de la série télévisée
LA DOUBLE VIE DE THÉOPHRASTE LONGUET d'Yannick Andrei (1981)

CD 11: LAile ou la Cuisse

1. Concerto Gastronomique versione (03:33)
2. Minestrone (02:27)
3. Jumbo l'éléphant (02:58)
4. Cassoulet (03:04)
5. T.Bone Steak (01:42)
6. Suki Yaki (02:43)
7. Barbe à Papa (01:11)
8. Tournedos Rossini (01:01)
9. L'Aile ou la Cuisse (02:29)
10. Marmelade de Marguerite (02:13)
11. Tarte à la Crème (02:00)
12. L'Agneusie (01:29)
13. Ile flottante (01:54)
14. Le Coup de lapin farci (01:55)
15. Choucroute garnie (02:29)
16. Navarin aux pommes (02:29)
17. L'Usine Tricatel (01:42)
18. Chanson de truffes à l'impériale ! (01:12)
19. Tricatel et les tests (01:12)
20. Mise en bouche (00:42)
21. La Chambre froide (01:20)
22. Le Danger devient trop grand ! (00:50)
23. Le Petit Cirque (00:39)
24. Mititeï (00:41)
25. Le Plombier espion (01:00)
26. Menu Dégustation (02:58)
Tracks 01-26: Bande originale du film L'AILE OU LA CUISSE de Claude Zidi (1976)
27. La Zizanie versione (02:28)
28. Les Cadences infernales (01:53)
29. S.O.S Pollution (01:20)
30. Guillaume et Bernadette (01:08)
31. Le Lion d'Or (01:43)
32. Petit chèque, gros chèque (01:14)
33. Mazout Rémoulade (01:19)
34. Tokyo Folko (03:00)
35. Barroud d'honneur (02:06)
36. Dernière Valse (02:19)
37. Coup fourré (01:21)
38. Pigeon volé (01:38)
39. Peur bleue (02:29)
40. Le Bon Choix (01:11)
41. Pure laine (02:10)
42. On sème la zizanie (02:36)
(P. Perret / V. Cosma) chanson interprétée par Pierre Perret
Tracks 27-42: Bande originale du film LA ZIZANIE de Claude Zidi (1978)

CD 12: Maldonne

1. Maldonne (02:14)
2. La Recherche (02:00)
3. Jacques et Gilberte (03:20)
4. Promenade dangereuse (01:32)
5. Le Couloir de l'angoisse (03:55)
6. Dans la serre (02:22)
7. La Recherche (2e version) (01:50)
8. La Résignation (01:30)
9. Maldonne (00:55)
10. L'Avancée (01:46)
11. Jacques compose (01:41)
12. Troublante rencontre (01:00)
13. Ultime avancée (00:53)
14. Gilberte (01:30)
Tracks 01-14: Bande originale du film MALDONNE de Sergio Gobbi (1968)
15. Pop Génération (02:13)
16. Teresa (02:12)
17. La Rencontre (01:59)
18. Helena et Lorenzo (02:32)
19. Teresa et les souvenirs (02:48)
Tracks 15-19: Bande originale du film TERESA de Gérard Vergez (1970)
20. Edgar et Blanche (02:36)
21. Ma Rivale, mon amie (02:05)
22. Mon Cœur balance versione (02:03)
23. La Ruse (00:56)
24. Vieni Qui (02:53)
(V. Cosma / V. Cosma / M. Marini) interprété par Marino Marini
Tracks 20-24: Bande originale du film LA RIVALE de Sergio Gobbi (1974)
25. Course d'enfer (02:53)
Track 25 de la B.O. du film A CHACUN SON ENFER d'André Cayatte (1977)
26. Une Affaire d'hommes (02:56)
27. Reconstitution du crime (01:06)
28. Un Tour au bois (02:04)
29. Mémoire (01:42)
30. Thème de l'amitié (01:03)
Tracks 26-30: B.O. du film UNE AFFAIRE D'HOMMES de Nicolas Ribowski (1981)
31. Toscania (04:07)
(G.Puccini / V.Cosma)
32. Angelina (01:35)
33. Poker (03:26)
34. O.P.A. (01:45)
35. La Dernière carte (04:46)
Tracks 31-35: Bande originale du film L'AFFAIRE de Sergio Gobbi (1994)

CD 13: Le Distrait

1. Le Distrait (02:06)
2. Réception chez les Gastier (03:48)
3. Etourderies versione (01:03)
4. Le Bureau aux oiseaux (01:24)
5. Promenade dans les champs (02:03)
6. Bravo Plistax ! (01:05)
7. Pierre et Lisa (01:40)
8. Petite leçon de Véronique (02:30)
9. Bizarre, tout est normal (02:34)
10. Les Cauchemars de Selo Digest (01:55)
11. Jéricho sert illico (01:10)
12. Mon Gazou, gazou, gazou… (00:43)
13. Oka Baï Do (01:21)
14. Des Histoires de distraits versione (01:58)
Tracks 01-14: Bande originale du film LE DISTRAIT de Pierre Richard (1970)
15. Alfred (02:05)
16. L'Enfance d'Alfred (00:38)
17. Oh, Agathe (01:19)
18. La Poursuite d'Alfred (01:41)
19. Encore une tuile … (00:51)
20. Les Victoires d'Alfred (01:24)
21. A vous le Berry ! (00:36)
22. Etreintes contrariées (01:27)
23. La Fine équipe (01:50)
24. Alfred, il faut partir… (01:15)
25. Lâchez les boucs ! (02:55)
26. Révélations de Pauline (01:03)
27. En piste pour les jeux ! (02:10)
28. L'Equipe de Paris (00:43)
29. Hamac récalcitrant (02:15)
30. Séparation d'Agathe (00:40)
31. Concertations autour de la M 29 (01:21)
avec les voix de Vladimir Cosma, Yves Robert…
32. M29 (00:45)
33. Je ne sais pas nager, toi non plus… (03:11)
Tracks 15-33: B.O. du film LES MALHEURS D'ALFRED de P. Richard (1972)
34. Je suis timide, mais je me soigne (version alternative) (02:43)
35. Thème d'Agnès (02:03)
36. Poursuite en char à voile (04:23)
37. Pierre et Agnès (01:57)
38. Les Deux Héros indestructibles (03:51)
39. Les Malheurs d'Alfred (02:34)
(V. Cosma / P. Delanoë) chanté par Pierre Richard
Tracks 34-39: Bande orginale du film
JE SUIS TIMIDE MAIS JE ME SOIGNE de Pierre Richard (1978)

CD 14: La Neige Et Le Feu

1. La Neige et le Feu (02:45)
2. L'Insurrection (Générique début) (02:18)
3. Thème Pathétique (02:26)
4. Paris libéré (00:54)
5. Lilette et Mireille (03:33)
6. Sambre et Meuse (03:36)
(J. Planquette / Argt. V. Cosma)
7. Amor, Amor (01:26)
(Ruiz Gabriel / Lopez Mendez Ricardo)
8. Les Permissionnaires (02:30)
9. Escapade Romantique (01:49)
10. La Châtelaine (01:05)
11. Première Patrouille (01:34)
12. Minuit Chrétiens (01:32)
(D.P. / Argt. V. Cosma)
13. Un noël américain (01:49)
14. Réveillon à Saverne (02:59)
15. Christiane et Michel (02:20)
16. Swing au Cercle Interallié (02:58)
17. Moonlight Sérénade (03:26)
(Glenn Miller)
18. Adagio Cantabile (Beethoven – Sonate n° 8) (01:21)
19. Christiane et Jacques (02:09)
20. Cheval errant (01:04)
21. Jebsheim (03:10)
22. Stars and stripes (03:29)
(J.P. Sousa / Arr. V. Cosma)
23. Christiane (02:11)
24. Laisse-moi rêver (03:26)
(V. Cosma / V. Buggy) interprété par Lara Fabian
Tracks 01-24: B.O. du film LA NEIGE ET LE FEU de Claude Pinoteau (1991)
25. Mouvement perpétuel (02:35)
26. Pierre et Marie Curie (03:03)
27. Papillon de nuit (01:32)
28. Les Palmes de Monsieur Schutz (03:29)
Tracks 25-28: Bande originale du film
LES PALMES DE MONSIEUR SCHUTZ de Claude Pinoteau (1997)
29. L'Eté 36 (03:13)
30. Alexis et Victoire s'aiment (02:55)
31. L'Euphorie des congés payés (01:54)
32. Retour à Paris (01:17)
33. Souvenirs d'enfance (02:20)
Tracks 29-33: Bande originale de la série télévisée L'ÉTÉ 36 d'Yves Robert (1986)

CD 15: Inspecteur La Bavure

1. L'Inspecteur la Bavure (02:39)
2. Traffic (02:05)
3. Substitution (03:32)
4. Fête chez Gégé (01:45)
5. Clément et Watrin en mission (01:26)
6. La Reconstitution (01:24)
7. Morzini tue le faussaire (01:32)
8. Clément en permission (00:32)
9. Big Bavure (01:56)
10. Vers l'auberge de rêve (01:52)
Tracks 01-10: B.O. du film INSPECTEUR LA BAVURE de Claude Zidi (1980)
11. Les Rois du gag (03:08)
12. Gaëtan (01:37)
13. Cabine de plage (01:01)
14. Paul et François (01:02)
15. Don Welson Corléone (01:52)
16. Prise d'otage (01:25)
17. Le Dernier Homme (05:43)
18. Alexandra (01:03)
Tracks 11-18: Bande originale du film LES ROIS DU GAG de Claude Zidi (1985)
19. La Totale ! (Générique début) (01:50)
20. Caméra cachée (01:35)
21. First Mission (06:25)
22. L'Inconnu (06:28)
23. Hélène et François (01:15)
24. Mystère Airline (02:57)
25. Mission interdite (03:02)
26. Sac d'embrouilles (02:04)
27. Ecole buissonnière (02:22)
28. L'Evasion (02:54)
29. L'Aveu (01:26)
30. Electrochoc (01:18)
31. Aventure à deux (03:15)
32. Rafales (01:47)
33. Ombres chinoises (00:59)
34. La Totale ! (03:09)
Tracks 19-34: Bande originale du film LA TOTALE ! de Claude Zidi (1991)

CD 16: Pleure Pas La Bouche Pleine

1. Non piangere (02:50)
(V. Cosma / M. Marini)
2. Le Nez d'Alexandre (02:02)
3. En Famille (01:24)
Tracks 01-03: B.O. du film PLEURE PAS LA BOUCHE PLEINE de P. Thomas (1973)
4. Tango des Zozos (03:38)
5. Zozo's one step (02:46)
6. La Fanfare des pensionnaires (01:48)
7. Quand l'école sera finie (03:17)
Tracks 04-07: Bande originale du film LES ZOZOS de Pascal Thomas (1973)
8. Samba Cueca versione (02:10)
9. Goodbye William (03:23)
Tracks 08-09: Bande originale du film LE CHAUD LAPIN de Pascal Thomas (1974)
10. La Surprise du chef (02:25)
11. Tendresse et Boléro (02:30)
12. Plouguerneau Rock (02:45)
13. Cha-Cha de St Chartres (03:38)
14. Papinou Tzigane (01:25)
15. Titi – Caca Samba (02:10)
16. Boléro Papinou (03:54)
17. Calypso (02:07)
18. Mambo (01:48)
19. Papinou Guitare (01:41)
Tracks 10-19: B.O. du film LA SURPRISE DE CHEF de Pascal Thomas (1976)
20. Confidences pour confidences (02:41)
21. Les Trois sœurs (02:02)
22. Le Déménagement (01:25)
23. La petite Chorale (01:20)
24. La Vie va (00:57)
Tracks 20-24: B.O. du film CONFIDENCES POUR CONFIDENCES de P. Thomas (1979)
25. Les Automates (02:23)
26. Le Chef de service (02:58)
27. Benjamin (01:15)
28. Les Souliers vernis (02:35)
29. Parlez-moi d'argent (02:02)
30. Un Oursin dans la poche (01:16)
Tracks 25-30: Bande originale du film
UN OURSIN DANS LA POCHE de Pascal Thomas (1977)
31. Celles qu'on n'a pas eues (02:26)
Track 31 de la B.O. du film CELLES QU'ON N'A PAS EUES de Pascal Thomas (1981)
32. La Pagaille (03:13)
33. Cadre dynamique (03:01)
Tracks 32-33: Bande originale du film LA PAGAILLE de Pascal Thomas (1991)

CD 17: Le Retour Du Grand Blond

1. Sapato Rosa (thème principal) (02:42)
2. Nai, nai, nai (02:38)
3. Blackfinger (02:00)
4. Allo Samba (02:19)
5. Floarea Soarelui (03:07)
6. Espionissima (02:07)
7. Batucada Feijoada (01:34)
8. Christine (04:04)
9. Petite Sirba (01:03)
10. Bossa des Tueurs (03:13)
11. Gymkana (02:37)
12. La Grande Blonde (02:24)
13. Le Grand Blond à Rio (01:53)
14. Les Brahms m'en tombent (02:22)
15. Langouste brésilienne - Bonus (02:58)
16. Sirba (Le Retour…) (02:07)
Tracks 01-16: B.O. du film LE RETOUR DU GRAND BLOND d'Yves Robert (1974)
17. La Moutarde me monte au nez (générique) (02:43)
18. Pierre et Jackie (02:46)
19. Les Apaches en folie 1 (01:53)
20. Echange de clichés (01:24)
21. Indian Flip (01:45)
22. Le Prof (01:11)
23. Minou attaque (01:06)
24. Shampoing de star (01:05)
25. Les Apaches en folie 2 (01:42)
26. Cheveux roses (01:37)
Tracks 17-26: B.O. du film LA MOUTARDE ME MONTE AU NEZ de Claude Zidi (1974)
27. La Course à l'échalote (02:48)
28. S.E.N.X. (01:55)
29. Music-Hall (01:14)
30. Le Coffre (01:24)
31. Chou-Fleur (03:03)
32. Départ en fanfare (01:57)
33. Galante filature (00:44)
34. Folle farandole (02:10)
35. La Malette (01:35)
36. Alcazar (01:10)
37. Pierre et Janet (01:27)
38. En route ! (02:02)
Tracks 27-38: Bande originale du film LA COURSE A L'ÉCHALOTE de C. Zidi (1975)
Exact Audio Copy V1.0 beta 3 from 29. August 2011

EAC extraction logfile from 27. April 2014, 23:34

Vladimir Cosma / L'As des As CD 1

Used drive : ATAPI iHBS312 2 Adapter: 1 ID: 0

Read mode : Secure
Utilize accurate stream : Yes
Defeat audio cache : Yes
Make use of C2 pointers : No

Read offset correction : 6
Overread into Lead-In and Lead-Out : No
Fill up missing offset samples with silence : Yes
Delete leading and trailing silent blocks : No
Null samples used in CRC calculations : Yes
Used interface : Native Win32 interface for Win NT & 2000
Gap handling : Appended to previous track

Used output format : User Defined Encoder
Selected bitrate : 768 kBit/s
Quality : High
Add ID3 tag : No
Command line compressor : C:\Program Files\Exact Audio Copy\FLAC\FLAC.EXE
Additional command line options : -V -8 -T "Genre=%genre%" -T "Artist=%artist%" -T "Title=%title%" -T "Album=%albumtitle%" -T "Date=%year%" -T "Tracknumber=%tracknr%" -T "Comment=%comment%" %source%


TOC of the extracted CD

Track | Start | Length | Start sector | End sector
––––––––––––––––––––––––––––-
1 | 0:00.00 | 3:20.41 | 0 | 15040
2 | 3:20.41 | 3:37.30 | 15041 | 31345
3 | 6:57.71 | 2:51.59 | 31346 | 44229
4 | 9:49.55 | 2:05.34 | 44230 | 53638
5 | 11:55.14 | 0:50.02 | 53639 | 57390
6 | 12:45.16 | 2:33.17 | 57391 | 68882
7 | 15:18.33 | 2:38.53 | 68883 | 80785
8 | 17:57.11 | 2:07.06 | 80786 | 90316
9 | 20:04.17 | 2:46.69 | 90317 | 102835
10 | 22:51.11 | 3:56.28 | 102836 | 120563
11 | 26:47.39 | 0:36.50 | 120564 | 123313
12 | 27:24.14 | 1:31.15 | 123314 | 130153
13 | 28:55.29 | 1:39.12 | 130154 | 137590
14 | 30:34.41 | 3:18.07 | 137591 | 152447
15 | 33:52.48 | 2:47.46 | 152448 | 165018
16 | 36:40.19 | 3:23.63 | 165019 | 180306
17 | 40:04.07 | 2:37.50 | 180307 | 192131
18 | 42:41.57 | 2:09.62 | 192132 | 201868
19 | 44:51.44 | 3:07.16 | 201869 | 215909
20 | 47:58.60 | 2:00.35 | 215910 | 224944
21 | 49:59.20 | 1:03.63 | 224945 | 229732
22 | 51:03.08 | 0:43.28 | 229733 | 232985
23 | 51:46.36 | 2:46.69 | 232986 | 245504
24 | 54:33.30 | 1:50.53 | 245505 | 253807
25 | 56:24.08 | 2:16.26 | 253808 | 264033
26 | 58:40.34 | 1:34.64 | 264034 | 271147
27 | 60:15.23 | 2:25.01 | 271148 | 282023
28 | 62:40.24 | 5:06.59 | 282024 | 305032
29 | 67:47.08 | 1:25.23 | 305033 | 311430
30 | 69:12.31 | 2:21.25 | 311431 | 322030
31 | 71:33.56 | 0:45.25 | 322031 | 325430
32 | 72:19.06 | 1:55.51 | 325431 | 334106
33 | 74:14.57 | 3:37.08 | 334107 | 350389


Track 1

Filename F:\torrent\Vladimir Cosma 40+51 Bandes Originales pour 91 Films\Vol_2\CD 1 LAs des As\score\01 L'As des As.wav

Pre-gap length 0:00:02.00

Peak level 88.4 %
Extraction speed 2.1 X
Track quality 100.0 %
Test CRC 942080FB
Copy CRC 942080FB
Accurately ripped (confidence 3) [1149F748] (AR v2)
Copy OK

Track 2

Filename F:\torrent\Vladimir Cosma 40+51 Bandes Originales pour 91 Films\Vol_2\CD 1 LAs des As\score\02 Oy ! Oy ! Oy !.wav

Peak level 94.6 %
Extraction speed 2.3 X
Track quality 100.0 %
Test CRC 97B00860
Copy CRC 97B00860
Accurately ripped (confidence 3) [EB33AFEA] (AR v2)
Copy OK

Track 3

Filename F:\torrent\Vladimir Cosma 40+51 Bandes Originales pour 91 Films\Vol_2\CD 1 LAs des As\score\03 A Berlin, toi et moi.wav

Peak level 72.2 %
Extraction speed 2.4 X
Track quality 100.0 %
Test CRC 11D29945
Copy CRC 11D29945
Accurately ripped (confidence 3) [75C085A5] (AR v2)
Copy OK

Track 4

Filename F:\torrent\Vladimir Cosma 40+51 Bandes Originales pour 91 Films\Vol_2\CD 1 LAs des As\score\04 La Flamme olympique.wav

Peak level 92.9 %
Extraction speed 2.3 X
Track quality 100.0 %
Test CRC ED545FFA
Copy CRC ED545FFA
Accurately ripped (confidence 3) [D9D77790] (AR v2)
Copy OK

Track 5

Filename F:\torrent\Vladimir Cosma 40+51 Bandes Originales pour 91 Films\Vol_2\CD 1 LAs des As\score\05 Jo, Simon et le petit ourson.wav

Peak level 73.3 %
Extraction speed 1.7 X
Track quality 100.0 %
Test CRC 2F8C8FFC
Copy CRC 2F8C8FFC
Accurately ripped (confidence 3) [C721BCBE] (AR v2)
Copy OK

Track 6

Filename F:\torrent\Vladimir Cosma 40+51 Bandes Originales pour 91 Films\Vol_2\CD 1 LAs des As\score\06 La Nique a Hitler !!!.wav

Peak level 89.8 %
Extraction speed 2.5 X
Track quality 100.0 %
Test CRC 8813055E
Copy CRC 8813055E
Accurately ripped (confidence 3) [E0797D68] (AR v2)
Copy OK

Track 7

Filename F:\torrent\Vladimir Cosma 40+51 Bandes Originales pour 91 Films\Vol_2\CD 1 LAs des As\score\07 Berlin Melody 1936.wav

Peak level 94.2 %
Extraction speed 1.8 X
Track quality 99.9 %
Test CRC 516DC271
Copy CRC 516DC271
Accurately ripped (confidence 3) [431E6150] (AR v2)
Copy OK

Track 8

Filename F:\torrent\Vladimir Cosma 40+51 Bandes Originales pour 91 Films\Vol_2\CD 1 LAs des As\score\08 L'Echappee belle.wav

Peak level 85.1 %
Extraction speed 2.6 X
Track quality 100.0 %
Test CRC F914EF69
Copy CRC F914EF69
Accurately ripped (confidence 3) [DA3AC062] (AR v2)
Copy OK

Track 9

Filename F:\torrent\Vladimir Cosma 40+51 Bandes Originales pour 91 Films\Vol_2\CD 1 LAs des As\score\09 Gaby, my darling.wav

Peak level 86.6 %
Extraction speed 2.8 X
Track quality 100.0 %
Test CRC FF065C22
Copy CRC FF065C22
Accurately ripped (confidence 3) [A27FE28A] (AR v2)
Copy OK

Track 10

Filename F:\torrent\Vladimir Cosma 40+51 Bandes Originales pour 91 Films\Vol_2\CD 1 LAs des As\score\10 Ouverture de l'As des As.wav

Peak level 97.7 %
Extraction speed 2.3 X
Track quality 99.9 %
Test CRC E66C0694
Copy CRC E66C0694
Accurately ripped (confidence 3) [AEFE35CF] (AR v2)
Copy OK

Track 11

Filename F:\torrent\Vladimir Cosma 40+51 Bandes Originales pour 91 Films\Vol_2\CD 1 LAs des As\score\11 Jo et Gaby.wav

Peak level 74.0 %
Extraction speed 1.8 X
Track quality 100.0 %
Test CRC 78F0C1C1
Copy CRC 78F0C1C1
Accurately ripped (confidence 3) [106D54FD] (AR v2)
Copy OK

Track 12

Filename F:\torrent\Vladimir Cosma 40+51 Bandes Originales pour 91 Films\Vol_2\CD 1 LAs des As\score\12 Les S.S. et la famille juive.wav

Peak level 79.0 %
Extraction speed 2.7 X
Track quality 100.0 %
Test CRC 833314EF
Copy CRC 833314EF
Accurately ripped (confidence 3) [B924082E] (AR v2)
Copy OK

Track 13

Filename F:\torrent\Vladimir Cosma 40+51 Bandes Originales pour 91 Films\Vol_2\CD 1 LAs des As\score\13 Dans le repere du loup.wav

Peak level 78.0 %
Extraction speed 2.8 X
Track quality 100.0 %
Test CRC 5B3F5FB8
Copy CRC 5B3F5FB8
Accurately ripped (confidence 3) [C44592D8] (AR v2)
Copy OK

Track 14

Filename F:\torrent\Vladimir Cosma 40+51 Bandes Originales pour 91 Films\Vol_2\CD 1 LAs des As\score\14 V comme Victoire.wav

Peak level 75.7 %
Extraction speed 3.3 X
Track quality 100.0 %
Test CRC C2315CEC
Copy CRC C2315CEC
Accurately ripped (confidence 3) [97E31B9F] (AR v2)
Copy OK

Track 15

Filename F:\torrent\Vladimir Cosma 40+51 Bandes Originales pour 91 Films\Vol_2\CD 1 LAs des As\score\15 Ich liebe dich.wav

Peak level 79.7 %
Extraction speed 2.2 X
Track quality 99.9 %
Test CRC 9CB11ADF
Copy CRC 9CB11ADF
Accurately ripped (confidence 3) [AD0D5E18] (AR v2)
Copy OK

Track 16

Filename F:\torrent\Vladimir Cosma 40+51 Bandes Originales pour 91 Films\Vol_2\CD 1 LAs des As\score\16 L'As des As (finale).wav

Peak level 97.7 %
Extraction speed 2.5 X
Track quality 99.9 %
Test CRC 383412CB
Copy CRC 383412CB
Accurately ripped (confidence 3) [7A147217] (AR v2)
Copy OK

Track 17

Filename F:\torrent\Vladimir Cosma 40+51 Bandes Originales pour 91 Films\Vol_2\CD 1 LAs des As\score\17 Danse de l'Animal.wav

Peak level 97.7 %
Extraction speed 2.3 X
Track quality 99.9 %
Test CRC C67E4AFC
Copy CRC C67E4AFC
Accurately ripped (confidence 3) [DE1C8387] (AR v2)
Copy OK

Track 18

Filename F:\torrent\Vladimir Cosma 40+51 Bandes Originales pour 91 Films\Vol_2\CD 1 LAs des As\score\18 Saut du Kangourou.wav

Peak level 81.5 %
Extraction speed 2.1 X
Track quality 99.9 %
Test CRC A9C3F2DF
Copy CRC A9C3F2DF
Accurately ripped (confidence 2) [087EB362] (AR v2)
Copy OK

Track 19

Filename F:\torrent\Vladimir Cosma 40+51 Bandes Originales pour 91 Films\Vol_2\CD 1 LAs des As\score\19 Mon Hawai.wav

Peak level 92.2 %
Extraction speed 2.6 X
Track quality 99.9 %
Test CRC 6F8B755B
Copy CRC 6F8B755B
Accurately ripped (confidence 2) [7859BCB7] (AR v2)
Copy OK

Track 20

Filename F:\torrent\Vladimir Cosma 40+51 Bandes Originales pour 91 Films\Vol_2\CD 1 LAs des As\score\20 Tendre gorille.wav

Peak level 78.9 %
Extraction speed 2.1 X
Track quality 99.9 %
Test CRC AA7B3B7F
Copy CRC AA7B3B7F
Accurately ripped (confidence 3) [1CB20CDE] (AR v2)
Copy OK

Track 21

Filename F:\torrent\Vladimir Cosma 40+51 Bandes Originales pour 91 Films\Vol_2\CD 1 LAs des As\score\21 Le Double Paso.wav

Peak level 97.7 %
Extraction speed 2.9 X
Track quality 100.0 %
Test CRC 4381B328
Copy CRC 4381B328
Accurately ripped (confidence 3) [838AB3AB] (AR v2)
Copy OK

Track 22

Filename F:\torrent\Vladimir Cosma 40+51 Bandes Originales pour 91 Films\Vol_2\CD 1 LAs des As\score\22 Chinatown.wav

Peak level 79.9 %
Extraction speed 2.4 X
Track quality 100.0 %
Test CRC 3AFF93D6
Copy CRC 3AFF93D6
Accurately ripped (confidence 3) [E0E2CDDD] (AR v2)
Copy OK

Track 23

Filename F:\torrent\Vladimir Cosma 40+51 Bandes Originales pour 91 Films\Vol_2\CD 1 LAs des As\score\23 Menuet du comte.wav

Peak level 61.8 %
Extraction speed 3.8 X
Track quality 100.0 %
Test CRC 06B4AD45
Copy CRC 06B4AD45
Accurately ripped (confidence 3) [B87B05F7] (AR v2)
Copy OK

Track 24

Filename F:\torrent\Vladimir Cosma 40+51 Bandes Originales pour 91 Films\Vol_2\CD 1 LAs des As\score\24 Gigue du chatelain.wav

Peak level 65.9 %
Extraction speed 3.5 X
Track quality 100.0 %
Test CRC EC7560D0
Copy CRC EC7560D0
Accurately ripped (confidence 3) [D2004C38] (AR v2)
Copy OK

Track 25

Filename F:\torrent\Vladimir Cosma 40+51 Bandes Originales pour 91 Films\Vol_2\CD 1 LAs des As\score\25 Pavane.wav

Peak level 97.1 %
Extraction speed 3.7 X
Track quality 100.0 %
Test CRC A82D72E8
Copy CRC A82D72E8
Accurately ripped (confidence 3) [D07E5A61] (AR v2)
Copy OK

Track 26

Filename F:\torrent\Vladimir Cosma 40+51 Bandes Originales pour 91 Films\Vol_2\CD 1 LAs des As\score\26 Gaillarde.wav

Peak level 77.9 %
Extraction speed 3.4 X
Track quality 100.0 %
Test CRC 5A890412
Copy CRC 5A890412
Accurately ripped (confidence 3) [9603C488] (AR v2)
Copy OK

Track 27

Filename F:\torrent\Vladimir Cosma 40+51 Bandes Originales pour 91 Films\Vol_2\CD 1 LAs des As\score\27 Passepied binaire.wav

Peak level 97.7 %
Extraction speed 3.9 X
Track quality 100.0 %
Test CRC 372A1D89
Copy CRC 372A1D89
Accurately ripped (confidence 3) [0E4F4EA9] (AR v2)
Copy OK

Track 28

Filename F:\torrent\Vladimir Cosma 40+51 Bandes Originales pour 91 Films\Vol_2\CD 1 LAs des As\score\28 Danse de l'Animal (version disco).wav

Peak level 97.7 %
Extraction speed 4.4 X
Track quality 100.0 %
Test CRC 3A6C7BA6
Copy CRC 3A6C7BA6
Accurately ripped (confidence 3) [FDB97A80] (AR v2)
Copy OK

Track 29

Filename F:\torrent\Vladimir Cosma 40+51 Bandes Originales pour 91 Films\Vol_2\CD 1 LAs des As\score\29 Retour du kangourou.wav

Peak level 84.3 %
Extraction speed 2.0 X
Track quality 99.8 %
Test CRC 668BF3D6
Copy CRC 668BF3D6
Accurately ripped (confidence 3) [287C146E] (AR v2)
Copy OK

Track 30

Filename F:\torrent\Vladimir Cosma 40+51 Bandes Originales pour 91 Films\Vol_2\CD 1 LAs des As\score\30 Copacabana.wav

Peak level 88.9 %
Extraction speed 4.1 X
Track quality 100.0 %
Test CRC A05BC496
Copy CRC A05BC496
Accurately ripped (confidence 2) [FE075700] (AR v2)
Copy OK

Track 31

Filename F:\torrent\Vladimir Cosma 40+51 Bandes Originales pour 91 Films\Vol_2\CD 1 LAs des As\score\31 Mariano for ever (Cosma ,Jordan).wav

Peak level 80.2 %
Extraction speed 2.9 X
Track quality 100.0 %
Test CRC 1A97523D
Copy CRC 1A97523D
Accurately ripped (confidence 2) [46EB81F6] (AR v2)
Copy OK

Track 32

Filename F:\torrent\Vladimir Cosma 40+51 Bandes Originales pour 91 Films\Vol_2\CD 1 LAs des As\score\32 Tropicana.wav

Peak level 97.0 %
Extraction speed 3.9 X
Track quality 100.0 %
Test CRC 10A23E40
Copy CRC 10A23E40
Accurately ripped (confidence 2) [A4686196] (AR v2)
Copy OK

Track 33

Filename F:\torrent\Vladimir Cosma 40+51 Bandes Originales pour 91 Films\Vol_2\CD 1 LAs des As\score\33 Cascade finale.wav

Peak level 97.7 %
Extraction speed 3.2 X
Track quality 99.9 %
Test CRC C8234B7C
Copy CRC C8234B7C
Accurately ripped (confidence 3) [78597BD9] (AR v2)
Copy OK


All tracks accurately ripped

No errors occurred

End of status report

==== Log checksum 929107CD0C280CD06DED0A8A88E48E7C24E576F396A563D502A1B792759B3895 ====
=========================================
Exact Audio Copy V1.0 beta 3 from 29. August 2011

EAC extraction logfile from 28. April 2014, 10:07

Vladimir Cosma / L'Etudiante CD 2

Used drive : ATAPI iHBS312 2 Adapter: 1 ID: 0

Read mode : Secure
Utilize accurate stream : Yes
Defeat audio cache : Yes
Make use of C2 pointers : No

Read offset correction : 6
Overread into Lead-In and Lead-Out : No
Fill up missing offset samples with silence : Yes
Delete leading and trailing silent blocks : No
Null samples used in CRC calculations : Yes
Used interface : Native Win32 interface for Win NT & 2000
Gap handling : Appended to previous track

Used output format : User Defined Encoder
Selected bitrate : 768 kBit/s
Quality : High
Add ID3 tag : No
Command line compressor : C:\Program Files\Exact Audio Copy\FLAC\FLAC.EXE
Additional command line options : -V -8 -T "Genre=%genre%" -T "Artist=%artist%" -T "Title=%title%" -T "Album=%albumtitle%" -T "Date=%year%" -T "Tracknumber=%tracknr%" -T "Comment=%comment%" %source%


TOC of the extracted CD

Track | Start | Length | Start sector | End sector
––––––––––––––––––––––––––––-
1 | 0:00.00 | 4:57.24 | 0 | 22298
2 | 4:57.24 | 2:41.30 | 22299 | 34403
3 | 7:38.54 | 5:20.34 | 34404 | 58437
4 | 12:59.13 | 1:41.00 | 58438 | 66012
5 | 14:40.13 | 4:13.28 | 66013 | 85015
6 | 18:53.41 | 2:17.59 | 85016 | 95349
7 | 21:11.25 | 4:11.10 | 95350 | 114184
8 | 25:22.35 | 4:36.64 | 114185 | 134948
9 | 29:59.24 | 1:50.22 | 134949 | 143220
10 | 31:49.46 | 0:38.53 | 143221 | 146123
11 | 32:28.24 | 2:12.35 | 146124 | 156058
12 | 34:40.59 | 3:32.50 | 156059 | 172008
13 | 38:13.34 | 3:41.28 | 172009 | 188611
14 | 41:54.62 | 2:39.16 | 188612 | 200552
15 | 44:34.03 | 1:07.49 | 200553 | 205626
16 | 45:41.52 | 3:06.11 | 205627 | 219587
17 | 48:47.63 | 1:18.12 | 219588 | 225449
18 | 50:06.00 | 4:38.73 | 225450 | 246372
19 | 54:44.73 | 3:16.73 | 246373 | 261145
20 | 58:01.71 | 1:47.57 | 261146 | 269227
21 | 59:49.53 | 2:44.25 | 269228 | 281552
22 | 62:34.03 | 3:14.16 | 281553 | 296118
23 | 65:48.19 | 1:23.08 | 296119 | 302351
24 | 67:11.27 | 2:52.52 | 302352 | 315303
25 | 70:04.04 | 3:09.68 | 315304 | 329546
26 | 73:13.72 | 3:55.70 | 329547 | 347241


Track 1

Filename F:\torrent\Vladimir Cosma 40+51 Bandes Originales pour 91 Films\Vol_2\CD 2 LEtudiante\score\01 You Call It Love (Jordan-Cosma - Karoline Kruger).wav

Pre-gap length 0:00:02.00

Peak level 98.8 %
Extraction speed 2.2 X
Track quality 100.0 %
Test CRC 2F87D9B4
Copy CRC 2F87D9B4
Accurately ripped (confidence 2) [32FF0D73] (AR v2)
Copy OK

Track 2

Filename F:\torrent\Vladimir Cosma 40+51 Bandes Originales pour 91 Films\Vol_2\CD 2 LEtudiante\score\02 Ned Compose.wav

Peak level 88.8 %
Extraction speed 2.2 X
Track quality 100.0 %
Test CRC D1A2F885
Copy CRC D1A2F885
Accurately ripped (confidence 3) [2C195DED] (AR v2)
Copy OK

Track 3

Filename F:\torrent\Vladimir Cosma 40+51 Bandes Originales pour 91 Films\Vol_2\CD 2 LEtudiante\score\03 Rain Forest.wav

Peak level 98.8 %
Extraction speed 2.6 X
Track quality 100.0 %
Test CRC CB079DE2
Copy CRC CB079DE2
Accurately ripped (confidence 3) [BEE3051B] (AR v2)
Copy OK

Track 4

Filename F:\torrent\Vladimir Cosma 40+51 Bandes Originales pour 91 Films\Vol_2\CD 2 LEtudiante\score\04 Coup de coeur.wav

Peak level 92.6 %
Extraction speed 2.3 X
Track quality 100.0 %
Test CRC 3F926A4E
Copy CRC 3F926A4E
Accurately ripped (confidence 3) [AB132045] (AR v2)
Copy OK

Track 5

Filename F:\torrent\Vladimir Cosma 40+51 Bandes Originales pour 91 Films\Vol_2\CD 2 LEtudiante\score\05 Vol de nuit.wav

Peak level 98.8 %
Extraction speed 2.8 X
Track quality 100.0 %
Test CRC C5CC74EB
Copy CRC C5CC74EB
Accurately ripped (confidence 3) [99D08D3E] (AR v2)
Copy OK

Track 6

Filename F:\torrent\Vladimir Cosma 40+51 Bandes Originales pour 91 Films\Vol_2\CD 2 LEtudiante\score\06 Valentine.wav

Peak level 71.9 %
Extraction speed 1.7 X
Track quality 99.9 %
Test CRC EF39C5DB
Copy CRC EF39C5DB
Accurately ripped (confidence 3) [2801AD62] (AR v2)
Copy OK

Track 7

Filename F:\torrent\Vladimir Cosma 40+51 Bandes Originales pour 91 Films\Vol_2\CD 2 LEtudiante\score\07 Sentimen Mwen (Jordan,Cosma).wav

Peak level 98.8 %
Extraction speed 3.1 X
Track quality 100.0 %
Test CRC 6E1AA05E
Copy CRC 6E1AA05E
Accurately ripped (confidence 3) [AD4F2BBC] (AR v2)
Copy OK

Track 8

Filename F:\torrent\Vladimir Cosma 40+51 Bandes Originales pour 91 Films\Vol_2\CD 2 LEtudiante\score\08 Iron Gate.wav

Peak level 98.8 %
Extraction speed 2.5 X
Track quality 99.9 %
Test CRC B894EC69
Copy CRC B894EC69
Accurately ripped (confidence 3) [D61FA777] (AR v2)
Copy OK

Track 9

Filename F:\torrent\Vladimir Cosma 40+51 Bandes Originales pour 91 Films\Vol_2\CD 2 LEtudiante\score\09 Premier Baiser.wav

Peak level 71.0 %
Extraction speed 2.9 X
Track quality 100.0 %
Test CRC A15F99B1
Copy CRC A15F99B1
Accurately ripped (confidence 3) [47A2EBDA] (AR v2)
Copy OK

Track 10

Filename F:\torrent\Vladimir Cosma 40+51 Bandes Originales pour 91 Films\Vol_2\CD 2 LEtudiante\score\10 Au Studio Davout.wav

Peak level 92.8 %
Extraction speed 2.0 X
Track quality 100.0 %
Test CRC 9541C580
Copy CRC 9541C580
Accurately ripped (confidence 3) [2F78C9C4] (AR v2)
Copy OK

Track 11

Filename F:\torrent\Vladimir Cosma 40+51 Bandes Originales pour 91 Films\Vol_2\CD 2 LEtudiante\score\11 Theme d'Edouard.wav

Peak level 86.6 %
Extraction speed 1.9 X
Track quality 99.9 %
Test CRC F77AF3D0
Copy CRC F77AF3D0
Accurately ripped (confidence 3) [DCA5BE86] (AR v2)
Copy OK

Track 12

Filename F:\torrent\Vladimir Cosma 40+51 Bandes Originales pour 91 Films\Vol_2\CD 2 LEtudiante\score\12 L'Etudiante.wav

Peak level 98.8 %
Extraction speed 3.5 X
Track quality 100.0 %
Test CRC 2841AA5A
Copy CRC 2841AA5A
Accurately ripped (confidence 3) [B0C8CCC0] (AR v2)
Copy OK

Track 13

Filename F:\torrent\Vladimir Cosma 40+51 Bandes Originales pour 91 Films\Vol_2\CD 2 LEtudiante\score\13 Le Plus beau metier du monde.wav

Peak level 98.8 %
Extraction speed 3.6 X
Track quality 100.0 %
Test CRC 2EEC717E
Copy CRC 2EEC717E
Accurately ripped (confidence 3) [5D67473F] (AR v2)
Copy OK

Track 14

Filename F:\torrent\Vladimir Cosma 40+51 Bandes Originales pour 91 Films\Vol_2\CD 2 LEtudiante\score\14 Ethnic jungle you you.wav

Peak level 98.8 %
Extraction speed 3.5 X
Track quality 100.0 %
Test CRC 3A7195B6
Copy CRC 3A7195B6
Accurately ripped (confidence 3) [6C1C184B] (AR v2)
Copy OK

Track 15

Filename F:\torrent\Vladimir Cosma 40+51 Bandes Originales pour 91 Films\Vol_2\CD 2 LEtudiante\score\15 Les Pitbulls d'Albert.wav

Peak level 96.3 %
Extraction speed 2.8 X
Track quality 100.0 %
Test CRC 1E15CEC0
Copy CRC 1E15CEC0
Accurately ripped (confidence 3) [7AD21478] (AR v2)
Copy OK

Track 16

Filename F:\torrent\Vladimir Cosma 40+51 Bandes Originales pour 91 Films\Vol_2\CD 2 LEtudiante\score\16 Octopus (Jungle Mix).wav

Peak level 87.3 %
Extraction speed 3.7 X
Track quality 100.0 %
Test CRC 45F4C6CC
Copy CRC 45F4C6CC
Accurately ripped (confidence 3) [D8F65430] (AR v2)
Copy OK

Track 17

Filename F:\torrent\Vladimir Cosma 40+51 Bandes Originales pour 91 Films\Vol_2\CD 2 LEtudiante\score\17 Theme de Malou.wav

Peak level 81.6 %
Extraction speed 3.1 X
Track quality 100.0 %
Test CRC D3ED0048
Copy CRC D3ED0048
Accurately ripped (confidence 3) [689A1B5C] (AR v2)
Copy OK

Track 18

Filename F:\torrent\Vladimir Cosma 40+51 Bandes Originales pour 91 Films\Vol_2\CD 2 LEtudiante\score\18 Ya Habibi Ya Aini (Ahlem Ben Rabah).wav

Peak level 82.6 %
Extraction speed 4.1 X
Track quality 100.0 %
Test CRC 3AA2C209
Copy CRC 3AA2C209
Accurately ripped (confidence 3) [A357A15E] (AR v2)
Copy OK

Track 19

Filename F:\torrent\Vladimir Cosma 40+51 Bandes Originales pour 91 Films\Vol_2\CD 2 LEtudiante\score\19 Hard beat (Ruff Mix).wav

Peak level 94.9 %
Extraction speed 3.9 X
Track quality 100.0 %
Test CRC 857477E4
Copy CRC 857477E4
Accurately ripped (confidence 3) [CA1CEDFB] (AR v2)
Copy OK

Track 20

Filename F:\torrent\Vladimir Cosma 40+51 Bandes Originales pour 91 Films\Vol_2\CD 2 LEtudiante\score\20 Happy Birthday to you (Argt. V. Cosma).wav

Peak level 73.5 %
Extraction speed 3.5 X
Track quality 100.0 %
Test CRC 83E17487
Copy CRC 83E17487
Accurately ripped (confidence 3) [F5837318] (AR v2)
Copy OK

Track 21

Filename F:\torrent\Vladimir Cosma 40+51 Bandes Originales pour 91 Films\Vol_2\CD 2 LEtudiante\score\21 Laurent sauve Malou.wav

Peak level 98.8 %
Extraction speed 2.6 X
Track quality 99.9 %
Test CRC 4EE21497
Copy CRC 4EE21497
Accurately ripped (confidence 3) [5774EE8D] (AR v2)
Copy OK

Track 22

Filename F:\torrent\Vladimir Cosma 40+51 Bandes Originales pour 91 Films\Vol_2\CD 2 LEtudiante\score\22 Naadin (Deep Mix).wav

Peak level 67.0 %
Extraction speed 2.9 X
Track quality 99.9 %
Test CRC 8955EF30
Copy CRC 8955EF30
Accurately ripped (confidence 3) [24B48920] (AR v2)
Copy OK

Track 23

Filename F:\torrent\Vladimir Cosma 40+51 Bandes Originales pour 91 Films\Vol_2\CD 2 LEtudiante\score\23 Andantino grazioso (Mozart - Argt. V. Cosma).wav

Peak level 98.8 %
Extraction speed 3.5 X
Track quality 100.0 %
Test CRC 1687E6A3
Copy CRC 1687E6A3
Accurately ripped (confidence 3) [49BF9345] (AR v2)
Copy OK

Track 24

Filename F:\torrent\Vladimir Cosma 40+51 Bandes Originales pour 91 Films\Vol_2\CD 2 LEtudiante\score\24 Le Desespoir de Laurent.wav

Peak level 65.3 %
Extraction speed 4.2 X
Track quality 100.0 %
Test CRC AD65E1C5
Copy CRC AD65E1C5
Accurately ripped (confidence 3) [B05BDD2F] (AR v2)
Copy OK

Track 25

Filename F:\torrent\Vladimir Cosma 40+51 Bandes Originales pour 91 Films\Vol_2\CD 2 LEtudiante\score\25 Radia's boogie rock final.wav

Peak level 64.6 %
Extraction speed 3.0 X
Track quality 99.9 %
Test CRC 49F53615
Copy CRC 49F53615
Accurately ripped (confidence 3) [40B640D1] (AR v2)
Copy OK

Track 26

Filename F:\torrent\Vladimir Cosma 40+51 Bandes Originales pour 91 Films\Vol_2\CD 2 LEtudiante\score\26 Le Plus beau metier du monde (Version rythmique).wav

Peak level 93.5 %
Extraction speed 3.5 X
Track quality 99.9 %
Test CRC 183A2221
Copy CRC 183A2221
Accurately ripped (confidence 3) [690CBA5E] (AR v2)
Copy OK


All tracks accurately ripped

No errors occurred

End of status report

==== Log checksum F1026F6C711BDCE7C3DB802413DCF598B1D1FA066DFF7EAE7A8EC623BF53A0DE ====
==================================
Exact Audio Copy V1.0 beta 3 from 29. August 2011

EAC extraction logfile from 28. April 2014, 13:11

Vladimir Cosma / Le Diner De Cons CD 3

Used drive : ATAPI iHBS312 2 Adapter: 1 ID: 0

Read mode : Secure
Utilize accurate stream : Yes
Defeat audio cache : Yes
Make use of C2 pointers : No

Read offset correction : 6
Overread into Lead-In and Lead-Out : No
Fill up missing offset samples with silence : Yes
Delete leading and trailing silent blocks : No
Null samples used in CRC calculations : Yes
Used interface : Native Win32 interface for Win NT & 2000
Gap handling : Appended to previous track

Used output format : User Defined Encoder
Selected bitrate : 768 kBit/s
Quality : High
Add ID3 tag : No
Command line compressor : C:\Program Files\Exact Audio Copy\FLAC\FLAC.EXE
Additional command line options : -V -8 -T "Genre=%genre%" -T "Artist=%artist%" -T "Title=%title%" -T "Album=%albumtitle%" -T "Date=%year%" -T "Tracknumber=%tracknr%" -T "Comment=%comment%" %source%


TOC of the extracted CD

Track | Start | Length | Start sector | End sector
––––––––––––––––––––––––––––-
1 | 0:00.00 | 2:44.37 | 0 | 12336
2 | 2:44.37 | 2:09.17 | 12337 | 22028
3 | 4:53.54 | 1:07.39 | 22029 | 27092
4 | 6:01.18 | 2:15.13 | 27093 | 37230
5 | 8:16.31 | 2:16.26 | 37231 | 47456
6 | 10:32.57 | 3:20.38 | 47457 | 62494
7 | 13:53.20 | 6:06.15 | 62495 | 89959
8 | 19:59.35 | 3:35.55 | 89960 | 106139
9 | 23:35.15 | 2:13.68 | 106140 | 116182
10 | 25:49.08 | 1:24.29 | 116183 | 122511
11 | 27:13.37 | 3:53.14 | 122512 | 140000
12 | 31:06.51 | 2:13.02 | 140001 | 149977
13 | 33:19.53 | 0:54.53 | 149978 | 154080
14 | 34:14.31 | 0:45.04 | 154081 | 157459
15 | 34:59.35 | 2:39.69 | 157460 | 169453
16 | 37:39.29 | 3:47.64 | 169454 | 186542
17 | 41:27.18 | 1:06.33 | 186543 | 191525
18 | 42:33.51 | 1:10.62 | 191526 | 196837
19 | 43:44.38 | 2:45.46 | 196838 | 209258
20 | 46:30.09 | 2:15.14 | 209259 | 219397
21 | 48:45.23 | 5:20.10 | 219398 | 243407
22 | 54:05.33 | 2:36.06 | 243408 | 255113
23 | 56:41.39 | 2:50.17 | 255114 | 267880
24 | 59:31.56 | 1:55.73 | 267881 | 276578
25 | 61:27.54 | 2:33.40 | 276579 | 288093
26 | 64:01.19 | 2:04.57 | 288094 | 297450
27 | 66:06.01 | 1:34.47 | 297451 | 304547
28 | 67:40.48 | 4:42.55 | 304548 | 325752
29 | 72:23.28 | 3:32.16 | 325753 | 341668
30 | 75:55.44 | 2:22.51 | 341669 | 352369


Track 1

Filename F:\torrent\Vladimir Cosma 40+51 Bandes Originales pour 91 Films\Vol_2\CD 3 Le Diner De Cons\score\01 Diner de Cons (version orchestrale).wav

Pre-gap length 0:00:02.00

Peak level 98.8 %
Extraction speed 1.1 X
Track quality 100.0 %
Test CRC C14FC7D6
Copy CRC C14FC7D6
Accurately ripped (confidence 3) [F666848D] (AR v2)
Copy OK

Track 2

Filename F:\torrent\Vladimir Cosma 40+51 Bandes Originales pour 91 Films\Vol_2\CD 3 Le Diner De Cons\score\02 Le Temps ne fait rien a l'affaire (Georges Brassens).wav

Peak level 98.8 %
Extraction speed 1.1 X
Track quality 100.0 %
Test CRC 52E86E22
Copy CRC 52E86E22
Accurately ripped (confidence 3) [979B088B] (AR v2)
Copy OK

Track 3

Filename F:\torrent\Vladimir Cosma 40+51 Bandes Originales pour 91 Films\Vol_2\CD 3 Le Diner De Cons\score\03 Depart de Christine.wav

Peak level 71.2 %
Extraction speed 0.9 X
Track quality 100.0 %
Test CRC 3D2C93CF
Copy CRC 3D2C93CF
Accurately ripped (confidence 3) [D04F4A24] (AR v2)
Copy OK

Track 4

Filename F:\torrent\Vladimir Cosma 40+51 Bandes Originales pour 91 Films\Vol_2\CD 3 Le Diner De Cons\score\04 Cheval, controleur fiscal.wav

Peak level 98.8 %
Extraction speed 1.2 X
Track quality 100.0 %
Test CRC E844E316
Copy CRC E844E316
Accurately ripped (confidence 3) [8E9B73DE] (AR v2)
Copy OK

Track 5

Filename F:\torrent\Vladimir Cosma 40+51 Bandes Originales pour 91 Films\Vol_2\CD 3 Le Diner De Cons\score\05 Con a grande vitesse.wav

Peak level 98.8 %
Extraction speed 1.3 X
Track quality 100.0 %
Test CRC 0139A22C
Copy CRC 0139A22C
Accurately ripped (confidence 3) [B0474748] (AR v2)
Copy OK

Track 6

Filename F:\torrent\Vladimir Cosma 40+51 Bandes Originales pour 91 Films\Vol_2\CD 3 Le Diner De Cons\score\06 Manciniade.wav

Peak level 98.8 %
Extraction speed 1.3 X
Track quality 99.9 %
Test CRC 0353E6A3
Copy CRC 0353E6A3
Accurately ripped (confidence 3) [D290C4B2] (AR v2)
Copy OK

Track 7

Filename F:\torrent\Vladimir Cosma 40+51 Bandes Originales pour 91 Films\Vol_2\CD 3 Le Diner De Cons\score\07 Diner de Cons.wav

Peak level 98.8 %
Extraction speed 1.6 X
Track quality 99.9 %
Test CRC 84090AFE
Copy CRC 84090AFE
Accurately ripped (confidence 3) [02FEDF48] (AR v2)
Copy OK

Track 8

Filename F:\torrent\Vladimir Cosma 40+51 Bandes Originales pour 91 Films\Vol_2\CD 3 Le Diner De Cons\score\08 Les Comperes.wav

Peak level 98.8 %
Extraction speed 1.7 X
Track quality 100.0 %
Test CRC B469E9F7
Copy CRC B469E9F7
Accurately ripped (confidence 3) [469F0DAE] (AR v2)
Copy OK

Track 9

Filename F:\torrent\Vladimir Cosma 40+51 Bandes Originales pour 91 Films\Vol_2\CD 3 Le Diner De Cons\score\09 La Recherche versione.wav

Peak level 98.8 %
Extraction speed 1.6 X
Track quality 100.0 %
Test CRC BF24D218
Copy CRC BF24D218
Accurately ripped (confidence 3) [819BEDA0] (AR v2)
Copy OK

Track 10

Filename F:\torrent\Vladimir Cosma 40+51 Bandes Originales pour 91 Films\Vol_2\CD 3 Le Diner De Cons\score\10 L'Arrivee a Nice.wav

Peak level 80.1 %
Extraction speed 1.4 X
Track quality 100.0 %
Test CRC 8BE6FF21
Copy CRC 8BE6FF21
Accurately ripped (confidence 3) [868B84D3] (AR v2)
Copy OK

Track 11

Filename F:\torrent\Vladimir Cosma 40+51 Bandes Originales pour 91 Films\Vol_2\CD 3 Le Diner De Cons\score\11 Les Rockers.wav

Peak level 97.4 %
Extraction speed 1.8 X
Track quality 100.0 %
Test CRC 5F97C846
Copy CRC 5F97C846
Accurately ripped (confidence 3) [389A1EE6] (AR v2)
Copy OK

Track 12

Filename F:\torrent\Vladimir Cosma 40+51 Bandes Originales pour 91 Films\Vol_2\CD 3 Le Diner De Cons\score\12 Theme de Tristan.wav

Peak level 68.8 %
Extraction speed 1.7 X
Track quality 100.0 %
Test CRC 1E0545E8
Copy CRC 1E0545E8
Accurately ripped (confidence 3) [2FE79B2A] (AR v2)
Copy OK

Track 13

Filename F:\torrent\Vladimir Cosma 40+51 Bandes Originales pour 91 Films\Vol_2\CD 3 Le Diner De Cons\score\13 Sur les toits de Nice.wav

Peak level 90.1 %
Extraction speed 1.3 X
Track quality 100.0 %
Test CRC 0E7A1BE4
Copy CRC 0E7A1BE4
Accurately ripped (confidence 3) [B6C30F5E] (AR v2)
Copy OK

Track 14

Filename F:\torrent\Vladimir Cosma 40+51 Bandes Originales pour 91 Films\Vol_2\CD 3 Le Diner De Cons\score\14 Mitraillage de Jeannot.wav

Peak level 82.5 %
Extraction speed 1.2 X
Track quality 100.0 %
Test CRC 9BF8EB88
Copy CRC 9BF8EB88
Accurately ripped (confidence 3) [D3B2B653] (AR v2)
Copy OK

Track 15

Filename F:\torrent\Vladimir Cosma 40+51 Bandes Originales pour 91 Films\Vol_2\CD 3 Le Diner De Cons\score\15 Pignon et Lucas.wav

Peak level 66.7 %
Extraction speed 1.8 X
Track quality 100.0 %
Test CRC 3923D555
Copy CRC 3923D555
Accurately ripped (confidence 3) [2AA9AAA2] (AR v2)
Copy OK

Track 16

Filename F:\torrent\Vladimir Cosma 40+51 Bandes Originales pour 91 Films\Vol_2\CD 3 Le Diner De Cons\score\16 Blue onions.wav

Peak level 92.2 %
Extraction speed 2.0 X
Track quality 100.0 %
Test CRC EFAEA2ED
Copy CRC EFAEA2ED
Accurately ripped (confidence 3) [4FD48295] (AR v2)
Copy OK

Track 17

Filename F:\torrent\Vladimir Cosma 40+51 Bandes Originales pour 91 Films\Vol_2\CD 3 Le Diner De Cons\score\17 Il etait une fois la zone.wav

Peak level 85.6 %
Extraction speed 1.5 X
Track quality 100.0 %
Test CRC B9497C0A
Copy CRC B9497C0A
Accurately ripped (confidence 3) [C2DA2AAE] (AR v2)
Copy OK

Track 18

Filename F:\torrent\Vladimir Cosma 40+51 Bandes Originales pour 91 Films\Vol_2\CD 3 Le Diner De Cons\score\18 Coup de barre.wav

Peak level 96.1 %
Extraction speed 1.6 X
Track quality 100.0 %
Test CRC 537D5EE6
Copy CRC 537D5EE6
Accurately ripped (confidence 3) [3F0A40B6] (AR v2)
Copy OK

Track 19

Filename F:\torrent\Vladimir Cosma 40+51 Bandes Originales pour 91 Films\Vol_2\CD 3 Le Diner De Cons\score\19 Coup dur.wav

Peak level 98.0 %
Extraction speed 2.0 X
Track quality 100.0 %
Test CRC AD2BEDFE
Copy CRC AD2BEDFE
Accurately ripped (confidence 3) [022394AB] (AR v2)
Copy OK

Track 20

Filename F:\torrent\Vladimir Cosma 40+51 Bandes Originales pour 91 Films\Vol_2\CD 3 Le Diner De Cons\score\20 Mon fils.wav

Peak level 79.5 %
Extraction speed 2.0 X
Track quality 100.0 %
Test CRC 69A0534A
Copy CRC 69A0534A
Accurately ripped (confidence 3) [FDF92C64] (AR v2)
Copy OK

Track 21

Filename F:\torrent\Vladimir Cosma 40+51 Bandes Originales pour 91 Films\Vol_2\CD 3 Le Diner De Cons\score\21 Les Fugitifs.wav

Peak level 98.8 %
Extraction speed 2.3 X
Track quality 100.0 %
Test CRC 607C7EB9
Copy CRC 607C7EB9
Accurately ripped (confidence 3) [AF304FAF] (AR v2)
Copy OK

Track 22

Filename F:\torrent\Vladimir Cosma 40+51 Bandes Originales pour 91 Films\Vol_2\CD 3 Le Diner De Cons\score\22 Legerement.wav

Peak level 90.2 %
Extraction speed 2.1 X
Track quality 100.0 %
Test CRC 76D9126C
Copy CRC 76D9126C
Accurately ripped (confidence 3) [24AA84C6] (AR v2)
Copy OK

Track 23

Filename F:\torrent\Vladimir Cosma 40+51 Bandes Originales pour 91 Films\Vol_2\CD 3 Le Diner De Cons\score\23 Ma petite fille.wav

Peak level 98.8 %
Extraction speed 2.2 X
Track quality 100.0 %
Test CRC FB3E4A3D
Copy CRC FB3E4A3D
Accurately ripped (confidence 3) [E9EF4370] (AR v2)
Copy OK

Track 24

Filename F:\torrent\Vladimir Cosma 40+51 Bandes Originales pour 91 Films\Vol_2\CD 3 Le Diner De Cons\score\24 Jeanne et Lucas.wav

Peak level 98.8 %
Extraction speed 2.1 X
Track quality 100.0 %
Test CRC BBC43C11
Copy CRC BBC43C11
Accurately ripped (confidence 3) [924C31D3] (AR v2)
Copy OK

Track 25

Filename F:\torrent\Vladimir Cosma 40+51 Bandes Originales pour 91 Films\Vol_2\CD 3 Le Diner De Cons\score\25 La Petite Fille et le Clochard.wav

Peak level 95.8 %
Extraction speed 2.2 X
Track quality 100.0 %
Test CRC D5702064
Copy CRC D5702064
Accurately ripped (confidence 3) [9BA8C3D3] (AR v2)
Copy OK

Track 26

Filename F:\torrent\Vladimir Cosma 40+51 Bandes Originales pour 91 Films\Vol_2\CD 3 Le Diner De Cons\score\26 La Blessure.wav

Peak level 91.4 %
Extraction speed 2.2 X
Track quality 100.0 %
Test CRC 47AFF359
Copy CRC 47AFF359
Accurately ripped (confidence 3) [F0D80408] (AR v2)
Copy OK

Track 27

Filename F:\torrent\Vladimir Cosma 40+51 Bandes Originales pour 91 Films\Vol_2\CD 3 Le Diner De Cons\score\27 T'en vas pas.wav

Peak level 98.8 %
Extraction speed 1.4 X
Track quality 99.8 %
Test CRC DBE89D01
Copy CRC DBE89D01
Accurately ripped (confidence 3) [B733579F] (AR v2)
Copy OK

Track 28

Filename F:\torrent\Vladimir Cosma 40+51 Bandes Originales pour 91 Films\Vol_2\CD 3 Le Diner De Cons\score\28 Les Fugitifs - final.wav

Peak level 98.8 %
Extraction speed 2.6 X
Track quality 100.0 %
Test CRC 44E85803
Copy CRC 44E85803
Accurately ripped (confidence 3) [46199D05] (AR v2)
Copy OK

Track 29

Filename F:\torrent\Vladimir Cosma 40+51 Bandes Originales pour 91 Films\Vol_2\CD 3 Le Diner De Cons\score\29 Le Diner de cons - Bonus.wav

Peak level 98.8 %
Extraction speed 2.5 X
Track quality 100.0 %
Test CRC BA9DFD5F
Copy CRC BA9DFD5F
Accurately ripped (confidence 3) [C3E0588F] (AR v2)
Copy OK

Track 30

Filename F:\torrent\Vladimir Cosma 40+51 Bandes Originales pour 91 Films\Vol_2\CD 3 Le Diner De Cons\score\30 You love me again (version courte) (Jordan-Cosma - Richard Sanderson).wav

Peak level 95.5 %
Extraction speed 2.4 X
Track quality 100.0 %
Test CRC 111C6830
Copy CRC 111C6830
Accurately ripped (confidence 3) [5E954C01] (AR v2)
Copy OK


All tracks accurately ripped

No errors occurred

End of status report

==== Log checksum 05F6B799AC45E0AAAED868DE7CEF2C41BA11C3FE3E218964FF8500BC8A0CD8B2 ====
All 17 log files included…