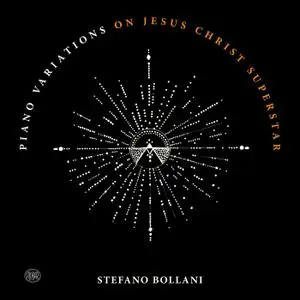 Stefano Bollani - Piano Variations on Jesus Christ Superstar (2020)
FLAC (tracks) 24-bit/48 kHz | Time - 63:35 minutes | 594 MB
Studio Master, Official Digital Download | Artwork: Digital booklet
Stefano Bollani's solo album "Piano Variations on Jesus Christ Superstar", entirely produced by Bollani, have been internationally released on 3rd April 2020, that is 50 years after Andrew Lloyd Webber & Tim Rice's original concept album. Bollani, grateful for the exceptional permission granted to him to re-interpret the cult opera, has freely but respectfully approached and improvised on the original songs by following his own playful wit, informed by the musical traditions, genres, styles and encounters that have influenced him and shaped what is considered his very own idiom.
Stefano Bollani, the technically dazzling and hugely entertaining pianist, composer, broadcaster and writer from Milan, was once a classically trained piano prodigy with an unexpected teenage obsession. When he was 14, Bollani saw the movie of Jesus Christ Superstar, immediately bought the album that had launched the epic rock-opera in 1970, and fell helplessly in love with Andrew Lloyd Webber and Tim Rice's story and its genre-busting, pop/classical score. Three decades later, Bollani - who has partnered stars from Bill Frisell and Chick Corea to Brazilian singer-songwriter Caetano Veloso, and tends to treat all musical holy writ as ripe for deconstruction - has returned to his youthful muse, not as a cast-of-thousands extravaganza, but as a heartfelt solo piano tribute.


The fuel for all Bollani's work is spontaneity and this is no exception – but the pianist has rarely treated his source materials with more respect. His inventiveness soon bursts out with the pounding vamp and pop-melody invitation of Heaven on Their Minds, its intertwined piano lines building to swing and stride-piano euphoria. Strange Thing, Mystifying is a country/gospel ballad with a Keith Jarrett feel, the darting attack of This Jesus Must Die deftly catches the original's speech rhythms, Pilate's Dream is hauntingly pensive and troubled, while the taunting King Herod's Song ("walk across my swimming pool") uncorks a swaggering Bollani's affection for Fats Waller. The only vocal is the pianist's deep-whispered, preoccupied recitation of the opera's famous title lyrics. An exceptional piece of jazz virtuosity driven by a transformational childhood memory, this is a bountiful celebration of a great Italian artist's love of music's life-affirming powers, too.
Tracklist:
01 - Prelude
02 - Heaven on Their Minds
03 - What's the Buzz?
04 - Strange Thing, Mystifying
05 - Everything's Alright
06 - This Jesus Must Die
07 - Hosanna
08 - Simon Zealotes
09 - Pilate's Dream
10 - The Temple
11 - I Don't Know How to Love Him
12 - Damned for All Time
13 - The Last Supper
14 - Gethsemane (I Only Want to Say)
15 - King Herod's Song
16 - Trial Before Pilate
17 - Superstar
18 - John Nineteen: Forty-One
Music & lyrics by Andrew Lloyd Webber/Tim Rice except "1" by Stefano Bollani.
Recorded and Mixed on October 4-7, 2019 by Roberto Lioli at LOAD (Liberation Of Arts District) Recording Studio, Rome, Italy.
Mastered by Stefano Cappelli at Creative Mastering.
Musicians:
Stefano Bollani - piano & voice on "17"
Frida Bollani - chorus on "17"
Manuela Bollani - chorus on "17"
Valentina Cenni - chorus on "17"
Analyzed: Stefano Bollani / Piano Variations on Jesus Christ Superstar
––––––––––––––––––––––––––––––––––––––––

DR Peak RMS Duration Track
––––––––––––––––––––––––––––––––––––––––
DR10 -7.34 dB -22.33 dB 1:42 01-Prelude
DR14 -1.09 dB -17.62 dB 4:59 02-Heaven on Their Minds
DR12 -1.08 dB -15.80 dB 2:41 03-What's the Buzz?
DR14 -2.70 dB -20.87 dB 1:33 04-Strange Thing, Mystifying
DR11 -3.70 dB -18.82 dB 5:54 05-Everything's Alright
DR13 -1.09 dB -16.71 dB 3:34 06-This Jesus Must Die
DR13 -4.18 dB -20.84 dB 3:00 07-Hosanna
DR13 -1.07 dB -17.29 dB 3:54 08-Simon Zealotes
DR11 -6.59 dB -23.12 dB 2:56 09-Pilate's Dream
DR12 -2.07 dB -18.16 dB 4:10 10-The Temple
DR13 -5.48 dB -22.09 dB 3:20 11-I Don't Know How to Love Him
DR12 -1.08 dB -15.95 dB 1:43 12-Damned for All Time
DR12 -5.08 dB -21.86 dB 4:01 13-The Last Supper
DR16 -1.07 dB -21.89 dB 7:26 14-Gethsemane (I Only Want to Say)
DR13 -1.08 dB -16.42 dB 3:46 15-King Herod's Song
DR11 -2.70 dB -18.03 dB 2:54 16-Trial Before Pilate
DR11 -2.47 dB -17.43 dB 4:06 17-Superstar
DR12 -13.64 dB -30.88 dB 1:56 18-John Nineteen: Forty-One
––––––––––––––––––––––––––––––––––––––––

Number of tracks: 18
Official DR value: DR12

Samplerate: 48000 Hz
Channels: 2
Bits per sample: 24
Bitrate: 1108 kbps
Codec: FLAC
================================================================================


Thanks to the Original customer!
Stefano Bollani in Hi-Res