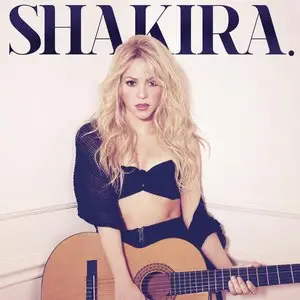 Shakira - Shakira. (2014)
FLAC (tracks) 24 bit/44,1 kHz | Time - 41:46 minutes | 531 MB
Studio Master, Official Digital Download | Artwork: Digital booklet
This is Shakira's tenth studio album since she began her career in 1990. The self-titled album is an English record that was initially scheduled to be released in 2012, but was pushed back due to the singer's pregnancy. Shakira. features the single "Can't Remember to Forget You," a duet with fellow Grammy-winning artist Rihanna. The title peaked at number fifteen on Billboard's Hot 100 chart after its release in January 2014.
Like many eponymous albums, Shakira's self-titled 2014 set marks a new beginning: a new album for a new label after she got a new job. The new job was as a co-host on the hit American televised musical contest The Voice, the new label was RCA, and the new album was her first full-fledged pop album since She Wolf, the rather brilliant, hard electronic dance record that stiffed in 2009. She bounced back in 2010 with Sale el Sol, but that album wasn't made with the U.S. market in mind, something that certainly can't be said of Shakira. Opening up with a duet with Rihanna, and later finding space for her Voice co-host Blake Shelton, Shakira is determined to appeal to all audiences here: don't like the relentless dance of "Dare (La La La)"? Stick around for the reggae collaboration with Magic! on "Cut Me Deep," or maybe the appealing faux-folk of "23" or the full-bore adult-pop assault of "The One Thing," which may be the best cut here. Unlike Oral Fixation, which spilled over with so much ambition it couldn't be contained on a single disc, this is concentrated: every track has its purpose; none has excess. That doesn't necessarily mean that every cut is cohesive but Shakira is the rare pop star who can pull an album together through sheer force of personality. Whatever the setting, she not only sounds comfortable, she sounds powerful, and that goes a long way toward making Shakira a nice state-of-the-art pop album for America and the rest of the world.
Tracklist:
01 - Dare (La La La)
02 - Can't Remember to Forget You [feat. Rihanna]
03 - Empire
04 - You Don't Care About Me
05 - Cut Me Deep [featuring Magic!]
06 - Spotlight
07 - Broken Record
08 - Medicine [featuring Blake Shelton]
09 - 23
10 - The One Thing
11 - Nunca Me Acuerdo de Olvidarte
12 - Loca por Ti
Produced by Shakira. Mastered by Stephen Marcussen.
Analyzed: Shakira / Shakira.
––––––––––––––––––––––––––––––––––––––––

DR Peak RMS Duration Track
––––––––––––––––––––––––––––––––––––––––
DR6 -0.75 dB -8.30 dB 3:07 01-Dare (La La La)
DR4 -0.95 dB -7.47 dB 3:27 02-Can't Remember to Forget You
DR5 -0.75 dB -8.51 dB 3:59 03-Empire
DR6 -0.97 dB -8.71 dB 3:42 04-You Don't Care About Me
DR5 -0.94 dB -7.74 dB 3:16 05-Cut Me Deep
DR6 -0.81 dB -7.96 dB 3:23 06-Spotlight
DR5 -0.75 dB -8.38 dB 3:15 07-Broken Record
DR5 -0.75 dB -7.48 dB 3:18 08-Medicine
DR6 -0.75 dB -9.63 dB 4:00 09-23
DR6 -0.84 dB -8.58 dB 3:12 10-The One Thing
DR4 -0.95 dB -7.44 dB 3:26 11-Nunca Me Acuerdo de Olvidarte
DR5 -0.75 dB -7.21 dB 3:42 12-Loca por Ti
––––––––––––––––––––––––––––––––––––––––

Number of tracks: 12
Official DR value: DR5

Samplerate: 44100 Hz
Channels: 2
Bits per sample: 24
Bitrate: 1684 kbps
Codec: FLAC
================================================================================


Thanks to the Original customer!