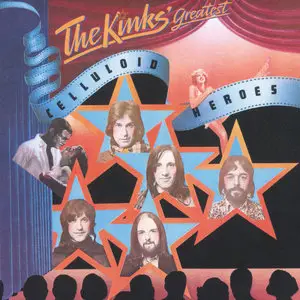 The Kinks - The Kinks' Greatest: Celluloid Heroes (1976) [SACD 2007]
PS3 Rip | SACD ISO | DSD64 2.0 > 1-bit/2.8224 MHz | 74:40 minutes | Scans included | 2,14 GB
or FLAC(converted with foobar2000 to tracks) 24bit/88,2 kHz | Full Scans included | 1,61 GB
Although they weren't as boldly innovative as the Beatles or as popular as the Rolling Stones or the Who, the Kinks were one of the most influential bands of the British Invasion. Like most bands of their era, the Kinks began as an R&B/blues outfit. Within four years, the band had become the most staunchly English of all their contemporaries, drawing heavily from British music hall and traditional pop, as well as incorporating elements of country, folk, and blues.
Released in 1976, just as the Kinks ended their notoriously uneven tenure at RCA, The Kinks' Greatest: Celluloid Heroes is a summary of their time at the label. Since they didn't have many genuine hits while at RCA, this winds up being a haphazard sampling of concept albums. Occasionally, an album is accurately represented. For instance, the selections from Muswell Hillbilles are perfect, but considering that nearly half this compilation leans on that terrific record, they would have to be. Apart from that album, the selection is decidedly hit and miss. It isn't that singles are missing – their lone British hit from this time, "Supersonic Rocket Ship," is nowhere to be found – or that albums are overlooked (no Schoolboys in Disgrace), it's that highlights like "Here Comes Yet Another Day" and "Sweet Lady Genevieve" are left on their original albums.
Tracklist:
01. 20th Century Man
02. Complicated Life
03. Muswell Hillbilly
04. Alcohol (Live at Carnegie Hall, NY)
05. Celluloid Heroes
06. Here Comes Yet Another Day
07. Sweet Lady Genevieve
08. One Of The Survivors
09. Sitting In The Midday Sun
10. He's Evil
11. Mirror Of Love
12. Artificial Man
13. Everybody's A Star (Starmaker)
14. (A) Face In The Crowd
15. You Can't Stop The Music
16. I'm In Disgrace
17. The Hard Way
18. No More Looking Back
Tracks 1-3 taken from "Muswell Hillbillies" (1971)
Tracks 4-6 taken from "Everybody's In Showbiz" (1972)
Tracks 7-9 taken from "Preservation Act 1" (1973)
Tracks 10-12 taken from "Preservation Act 2" (1974)
Tracks 13-15 taken from "A Soap Opera" (1975)
Tracks 16-18 taken from "Schoolboys In Disgrace" (1975)
Produced by Raymond Douglas Davies. SACD Reissue Produced by Bill Crowley.
Newly Remastered for 2007 SACD release by Alan Silverman at Arf! Digital, New York City.
Analyzed: The Kinks / Celluloid Heroes
––––––––––––––––––––––––––––––––––––––––

DR Peak RMS Duration Track
––––––––––––––––––––––––––––––––––––––––
DR8 -5.89 dB -17.26 dB 5:55 01-20th Century Man
DR9 -6.45 dB -18.34 dB 4:02 02-Complicated Life
DR11 -6.21 dB -18.66 dB 4:56 03-Muswell Hillbilly
DR11 -6.27 dB -20.29 dB 5:16 04-Alcohol (Live)
DR10 -6.24 dB -19.88 dB 6:20 05-Celluloid Heroes
DR11 -6.03 dB -18.94 dB 3:53 06-Here Comes Yet Another Day
DR11 -6.95 dB -19.17 dB 3:28 07-Sweet Lady Genevieve
DR10 -5.97 dB -17.27 dB 4:33 08-One Of The Survivors
DR11 -6.24 dB -19.77 dB 3:48 09-Sitting In The Midday Sun
DR9 -6.74 dB -18.10 dB 4:26 10-He's Evil
DR11 -7.22 dB -19.47 dB 3:28 11-Mirror Of Love
DR10 -6.15 dB -18.57 dB 5:31 12-Artificial Man
DR10 -6.34 dB -17.89 dB 3:01 13-Everybody's A Star (Starmaker)
DR11 -6.29 dB -19.66 dB 2:21 14-(A) Face In The Crowd
DR10 -6.12 dB -17.58 dB 3:15 15-You Can't Stop The Music
DR9 -6.76 dB -17.49 dB 3:23 16-I'm In Disgrace
DR9 -7.18 dB -18.12 dB 2:38 17-The Hard Way
DR9 -6.23 dB -17.21 dB 4:27 18-No More Looking Back
––––––––––––––––––––––––––––––––––––––––

Number of tracks: 18
Official DR value: DR10

Samplerate: 2822400 Hz / PCM Samplerate: 88200 Hz
Channels: 2
Bits per sample: 24
Bitrate: 5645 kbps
Codec: DSD64


Thanks to PS³SACD!
Uncompressed SACD ISO size > 3 GB
>