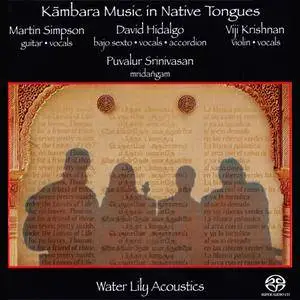 Martin Simpson, David Hidalgo, Viji Krishnan, Puvalur Srini -
- Kāmbara Music In Native Tongues (1998) [Reissue 2001]
PS3 Rip | SACD ISO | DSD64 2.0 > 1-bit/2.8224 MHz | 41:58 minutes | Scans included | 1,23 GB
or FLAC(converted with foobar2000 to tracks) 24bit/88,2 kHz | Full Scans included | 746 MB
Herein is an attempt to blend aspects of folk-rock with that of Karnatak music. Multi-instrumentalist Hidalgo performs on bajo sexto and accordion while Simpson plays steel and acoustic guitars to which Krishnan's violin and Srinivasan's mridangam add a distinct Karnatak hue.
Continuing in Water Lily Acoustics' series of sitting down musicians from different musical traditions to find common ground (which reached its pinnacle with the awe-inspiring collaboration of Ry Cooder and V.M. Bhatt on A Meeting by the River), Kambara Music joins guitarist Martin Simpson with Los Lobos singer/guitarist David Hidalgo, violinist/vocalist Viji Krishnan, and mridangam player Puvalur Srinivasan. It is an intriguing combination, but it is not as effective as one would have hoped. The first problem is the choice of material. The group has elected to open with Richard Thompson's "Waltzing's for Dreamers," with Simpson himself singing the tune's folky, bittersweet melody. Although his guitar playing could arguably rival Thompson's own, vocally he does not have the depth of expression necessary to pull off this great song. Simpson's voice is simply not up to snuff, and considering that Hidalgo, who is a very soulful singer (and a proven strong interpreter of Thompson's material at that) is present on this date, the production decision made here doesn't make much sense. The Los Lobos frontman, also a great guitar player in his own right who plays no guitar on this record, instead contributes wistful accordion in keeping with the spirit of the Mitchell Froom-supplied harmonium on the original. Where this group succeeds is in the long, hypnotic repetition of songs, such as Hidalgo's "The Slow Pageant," which, true to its name, unfolds deliberately and seductively as Simpson and Krishnan trade simple melodic lines over Hidalgo's bajo sexto ostinato and Srinivasan's gentle percussion. Producer Kavichandran Alexander's pretentious liner notes speak of this music as being self-consciously healing music. Whether this is true or not is not a matter for this reviewer (or any reviewer) to decide, but what can be said is that this is very unassuming music, not likely to turn any heads. Additionally, the recording itself is not as good as one would hope, especially considering the notorious lengths that Water Lily goes to to assure that only the highest quality analog recording equipment is used. Overall, there are some nice moments here, but it functions better as a sort of penumbra to Simpson and Hidalgo's work, and not as an introduction or as a prime exhibit of their talent.
Tracklist:
01. Waltzing's for Dreamers
02. The Slow Pageant
03. He'll Have to Go
04. El Jarabe Loco
05. A Dancer's Gait
06. The Running Kind
Personnel
Martin Simpson - vocals, guitar
David Hidalgo - bajo sexto, vocals, accordion
Viji Krishnan - violin, vocals
Puvalur Srini - mridangam
foobar2000 1.3.10 / Dynamic Range Meter 1.1.1

––––––––––––––––––––––––––––––––––––––––
Analyzed: Martin Simpson, David Hidalgo, Viji Krishnan, Puvalur Srinivasan / Kambara Music in Native Tongues
––––––––––––––––––––––––––––––––––––––––

DR Peak RMS Duration Track
––––––––––––––––––––––––––––––––––––––––
DR14 -10.01 dB -28.24 dB 4:17 01-Waltzing's for Dreamers
DR18 -6.01 dB -28.71 dB 10:48 02-The Slow Pageant
DR14 -6.69 dB -27.10 dB 6:14 03-He'll Have to Go
DR14 -6.22 dB -26.77 dB 6:53 04-El Jarabe Loco
DR19 -7.93 dB -30.29 dB 8:20 05-A Dancer's Gait
DR14 -5.59 dB -27.39 dB 5:26 06-The Running Kind
––––––––––––––––––––––––––––––––––––––––

Number of tracks: 6
Official DR value: DR16

Samplerate: 2822400 Hz / PCM Samplerate: 88200 Hz
Channels: 2
Bits per sample: 24
Bitrate: 5645 kbps
Codec: DSD64


Thanks to perception1111 & ManWhoCan!
Uncompressed SACD ISO size > 1,68 GB
>