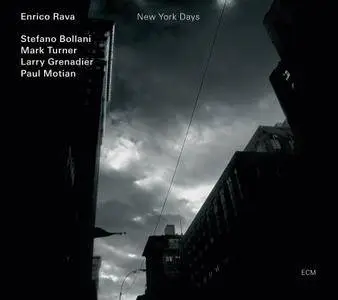 Enrico Rava - New York Days (2009)
FLAC (tracks) 24-bit/96 kHz | Time - 77:42 minutes | 1,33 GB
Studio Master, Official Digital Download | Artwork: Digital booklet
New all-star quintet session features trumpeter Enrico Rava, the greatest Italian jazz musician, and his prot 'g', pianist Stefano Bollani, together with three leading American jazzmen: master drummer Paul Motian, bassist Larry Grenadier, and saxophonist Mark Turner. The CD is both a transatlantic project and a kind of 'homecoming'. Rava found his musical direction while living in New York in the late 60s/early 70s. Since then an increasingly 'Italian' lyricism has also made itself felt in his playing. Rava's soulful trumpet is strongly contrasted with the lean, analytical playing of Mark Turner. Bollani's playful harmonic imagination shapes bridges between them. Larry Grenadier is "present and focused in every moment" as Rava says, and Paul Motian is as idiosyncratically creative as ever.
The neo-noir textures of Italian trumpeter Enrico Rava's fine ECM release, NEW YORK DAYS, recall evocative, jazz-based film scores such as Gato Barbieri's LAST TANGO IN PARIS or Miles Davis's ELEVATOR TO THE GALLOWS. Joined by a stellar cast, including the fine pianist Stefano Bollani, contemporary tenor saxophonist Mark Turner, and the apparently ageless Paul Motian on drums, Rava conjures a rain-soaked, black-and-white urban fantasia on a finely produced, 77-minute set of moody originals. Rava, Turner, and Bollani are all strong stylists, however, so there is little danger of their being fully submerged in the impressionistic dark waters. At times, the sound resembles the post-bop chamber jazz of Miles's celebrated '60s quintet, at others, the upscale European strains of film composer Nino Rota or tango master Astor Piazzolla. Either way, NEW YORK DAYS is one of the outstanding jazz releases of 2009.
Tracklist:
01 - Lulù
02 - Improvisation I
03 - Outsider
04 - Certi angoli segreti
05 - Interiors
06 - Thank You, Come Again
07 - Count Dracula
08 - Luna urbana
09 - Improvisation II
10 - Lady Orlando
11 - Blancasnow
Produced by Manfred Eicher. Engineered by James A. Farber.
Recorded in February 2008 at Avatar Studios, New York.
Musicians:
Enrico Rava - trumpet
Mark Turner - tenor saxophone
Stefano Bollani - piano
Larry Grenadier - double bass
Paul Motian - drums
Analyzed: Enrico Rava, Stefano Bollani, Mark Turner, Larry Grenadier, Paul Motian / New York Days
––––––––––––––––––––––––––––––––––––––––

DR Peak RMS Duration Track
––––––––––––––––––––––––––––––––––––––––
DR14 -1.59 dB -24.14 dB 4:24 01-Lulù
DR15 -1.35 dB -22.19 dB 9:29 02-Improvisation I
DR15 -2.81 dB -21.92 dB 6:17 03-Outsider
DR16 -0.20 dB -20.92 dB 10:56 04-Certi angoli segreti
DR14 -0.73 dB -22.21 dB 10:43 05-Interiors
DR16 -0.14 dB -20.54 dB 7:06 06-Thank You, Come Again
DR12 -2.50 dB -19.47 dB 3:20 07-Count Dracula
DR15 -0.98 dB -20.57 dB 7:40 08-Luna urbana
DR13 -1.51 dB -20.38 dB 7:52 09-Improvisation II
DR13 -0.80 dB -20.89 dB 5:32 10-Lady Orlando
DR12 -2.03 dB -21.00 dB 4:23 11-Blancasnow
––––––––––––––––––––––––––––––––––––––––

Number of tracks: 11
Official DR value: DR14

Samplerate: 96000 Hz
Channels: 2
Bits per sample: 24
Bitrate: 2395 kbps
Codec: FLAC
================================================================================


Thanks to the Original customer!
Enrico Rava - On The Dance Floor (2012)