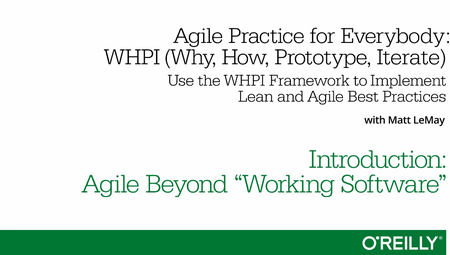 An Agile Practice for Everybody—WHPI (Why, How, Prototype, Iterate)
MP4 | Video: AVC 1920x1080 | Audio: AAC 48KHz 2ch | Duration: 45M | 1.16 GB
Genre: eLearning | Language: English
Agile software development encourages product teams to create "working software" as quickly as possible in order to maximize the opportunities for real customer feedback. But what does "working software" look like for non-product teams? This video explains the meaning of Agile "working software"; demonstrates how any team (product or non-product ) can leverage core Agile values to deliver better results; and introduces an easy-to-use practice that puts Agile values into action: WHPI (i.e., why, how, prototype, and iterate). WHPI provides teams with a practical way to ensure that any kind of deliverable is manageable in scope and firmly rooted in clear and agreed-upon goals.
Learn how WHPI enables the core Agile values of cross-functional collaboration and iterative work
Discover the importance of a goals-first approach to Agile, starting with a clear, well-understood "why"
Understand why prototyping helps teams avoid costly mistakes and re-working
Learn how to bring the WHPI practice to your organization