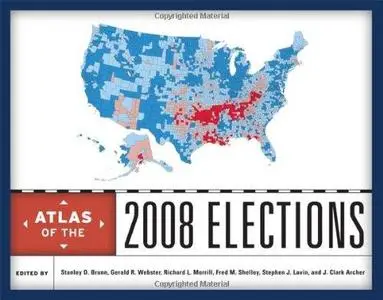 Atlas of the 2008 Elections By Stanley D. Brunn, Gerald R. Webster, Richard L. Morrill, Stephen J. Lavin, Fred M. Shelley, J. Clark Archer
2011 | 335 Pages | ISBN: 0742567958 | PDF | 27 MB
The U.S. presidential election of 2008 was one of the most significant elections in recent American history. Bringing together leading geographers and political scientists, this authoritative atlas analyzes and maps the campaigns, primaries, general election, and key state referenda to provide a rich picture of this watershed event. The contributors offer a comprehensive and detailed assessment of all aspects of the election, providing presidential results at the national level, in major regions, and in swing states. Drilling down to county level, they trace voting patterns for key racial, ethnic, religious, and occupational groups. They also illustrate the campaign strategies of Democratic and Republican party leaders. Moving beyond the national race, the atlas compares important senatorial and gubernatorial races to presidential votes and considers selected state referenda such as marriage amendments, farm animal cruelty, stem cell research, and physician-assisted suicide. For added context and depth, the 2008 election results are compared with previous national elections.Illustrated with more than 200 meticulously drawn full-color maps, the atlas will be an essential reference and a fascinating resource for pundits, voters, campaign staffs, and political junkies alike.