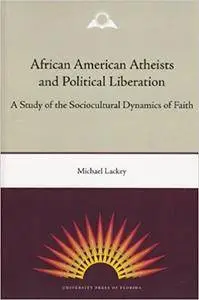 Michael Lackey, "African American Atheists and Political Liberation: A Study of the Sociocultural Dynamics of Faith"
2007 | pages: 184 | ISBN: 0813030358 | PDF | 1,0 mb
This study of atheist African American writers poses a substantive challenge to those who see atheism in despairing and nihilistic terms. Lackey argues that while most white atheists mourn the loss of faith, many black atheists–believing the "God-concept" spawns racism and oppression–consider the death of God a cause for personal and political hope. Focusing on a little-discussed aspect of African American literature, this full-length analysis of African American atheists' treatment of God fills a huge gap in studies that consistently ignore their contributions. Examining how a belief in God and His "chosen people" necessitates a politics of superiority and inferiority, Lackey implicitly considers the degree to which religious faith is responsible for justifying oppression, even acts of physical and psychological violence.In their secular vision of social and political justice, black atheists argue that only when the culture adopts and internalizes a truly atheist politics–one based on pluralism, tolerance, and freedom–will radical democracy be achieved. Of primary interest to scholars of African American studies, this volume also will appeal to religious scholars, philosophers, anthropologists, freethinkers, and religious and secular humanists. 
My Link